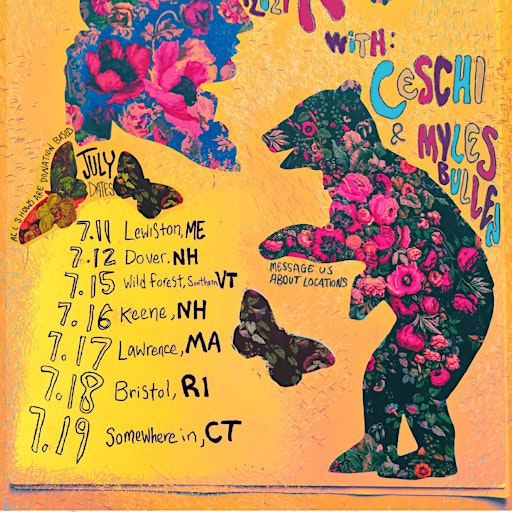 Ceschi & Myles Bullen
WHO THE WHAT?I
Backyard Concert Tour w/ Ceschi & Myles Bullen
Early Evening Enchantments in July 2021
reservations required for entry to shows!
Suggested Donations - pay at the show
MAINE> NEW HAMPSHIRE< VERMONT>MASSACHUSETTSCONNECTICUT
CESCHI
Early in his career, Ceschi's band Toca was signed to Snoop Dogg's management team. He learned a bit about how to navigate cutthroat Hollywood and its bullshit lunches and empty promises. During a meeting with an L.A. agency rep, Ceschi was asked to describe his music concisely. Knowing that the breadth of his influences is too wide to properly digest, Ceschi blurted out something like, "If Kendrick Lamar met Elliott Smith in a psychedelic limbo. If Kurt Cobain's brain blown ghost met Frank Ocean." And the man got it - right away. No talk of Freestyle Fellowship, Neutral Milk Hotel, My Bloody Valentine, Silvio Rodríguez, or the vast, less marketable influential giants to Ceschi.
https://fakefour.bandcamp.com/
MYLES
Indigenous poet/ indie rap artist, Myles Bullen (pronouns he/they) creates songs and poems advocating for social justice, mental health, and how to deal with depression and anxiety. Myles has toured throughout 40 states in the US and parts of Europe performing at venues, colleges, recovery centers, and prisons. He has released three full albums called Wake Up Century, Not Dead Yet and Healing Hurts. Myles' song "iamnotforeveryone" is currently at 360,000 streams on Spotify, and rising. You can follow Myles' work via his website mylesbullen.com
https://mylesbullen.bandcamp.com