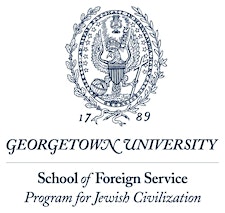 Center for Jewish Civilization
The Program for Jewish Civilization (PJC) is part of Georgetown University's Edmund A. Walsh School of Foreign Service (SFS), a premier school of international affairs. The PJC is home to the study of the global dimensions of Judaism throughout the ages and especially in our own era, with an emphasis on the ethical aspects of Jewish civilization and its interrelationship with other peoples and polities. 
Only events that require RSVPs are listed below. Please note that some events may be restricted to Georgetown University students, faculty and staff.
Map of the Main Campus | Parking Information | Directions to Event Locations