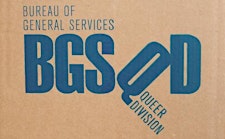 Bureau of General Services—Queer Division

The Bureau of General Services—Queer Division is an independent, all-volunteer queer cultural center, bookstore, and event space hosted by The Lesbian, Gay, Bisexual & Transgender Community Center in New York City. We aim to foster a community invested in the values of mindfulness, intellectual curiosity, justice, compassion, and playfulness. The Bureau seeks to excite and educate a self-confident, sex-positive, and supportive queer community by offering books, publications, and art and by hosting readings, performances, film screenings, book discussion groups, and workshops. We provide local and visiting queers and friends with an open and inclusive space for dialogue and socializing. The Bureau of General Services—Queer Division welcomes you.

As of March 13, 2020, the Bureau has been temporarily closed. During this time, we invite you to order books from our online store and join our online events. We love you and miss you-our vibrant queer community!