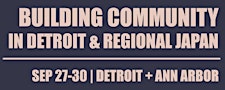 Building Community in Detroit & Regional Japan
A four-day series of public talks, workshops, and exhibitions dedicated to showcasing collaborations between community-building initiatives in Detroit and regional Japan.
PRESENTED BY THE U-M CENTER FOR JAPANESE STUDIES & U-M BICENTENNIAL,
IN PARTNERSHIP WITH THE 2017 DETROIT DESIGN FESTIVAL.
FREE REGISTRATION REQUIRED FOR SELECT EVENTS.
Transportation between Ann Arbor and Detroit available for select events.
Questions? Contact us at buildingcom.det.jpn@umich.edu
Sorry, there are no upcoming events