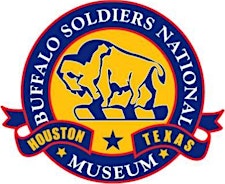 Buffalo Soldiers National Museum
THE BUFFALO SOLDIERS
African Americans have served proudly in every great American war. In 1866, through an act of Congress, legislation was adopted to create six all African Americans Army units. The units were identified as the 9th and 10th cavalry and the 38th, 39th, 40th, and 41st infantry regiments. The four infantry regiments were later recognized to from the 24th and 25th infantry regiments.
These fighting men represented the first Black professional soldiers in a [peacetime army. The recruits came from varied backgrounds including former slaves and veterans from service in the Civil War.
The nickname Buffalo Soldiers began with the Cheyenne warriors in 1867. The actual Cheyenne translation was Wild Buffalo. The nickname was given out of respect for the fierce fighting ability of the 10th U.S. Cavalry. Overtime, Buffalo Soldiers became a generic term for all African American soldiers serving in the 9th and 10th U.S. Cavalry and the 24th and 25th U.S. Infantry Regiments.
During the late 1800s and early 1900s, the Buffalo Soldiers were assigned to the harshest and most desolate post. Specific duties included subduing Mexican revolutionaries, outlaws, rustlers and hostile Native Americans. Additional administrative duties included exploring and mapping the Southwest and establishing outpost for future towns.
WHO WE ARE…
The Buffalo Soldiers National Museum (BSNM) is a non-profit 501 (c )(3) institutional founded in 2001 by Vietnam and African American military history Captain Paul J. Matthews. The private collection of military artifacts that Captain Matthews collected for more than 30 years become the foundation for the museum. It now boasts the largest collection of African American military memorabilia in the world.
Located in Houston, Texas, the Buffalo Soldiers National Museum is the only museum in the United States dedicated primarily to preserving the legacy and honor of the Buffalo Soldier. In its first year of operation, BSNM had 20,000 visitors; that number is currently more than 30,000. BSNM historian is Major Charles Williams, an historian and former member of the United States Army, Founder, Captain Paul J. Matthews serves as BSNM's Chief Docent.
WHAT WE DO…
The Center for African American Military History (CAAMH), dba Buffalo Soldiers National Museum (BSNM) is dedicated to exploring and displaying the stories and contributions of African Americans in the military by way of perfoming and visual arts, educational programming and exhibitions.
We aim is to educate, preserve, promote and perpetuate the history, tradition and outstanding contributions of the Buffalo Soldier. The vision is to help build pride and patriotism in everyone as they review the contributions of men and women across all cultures and ethnicities who have served in America's Armed Forces.
BSNM strives to interpret, articulate, collect, display and preserve historical artifacts, documents, videos, prints and other historical memorabilia which details the history of the brave men and women who overcame extreme adversity while gallantly fighting the great American wars.