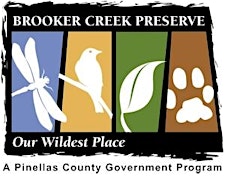 Brooker Creek Preserve Env. Education Center
Pinellas County Extension at Brooker Creek Preserve Environmental Education Center is proud to offer a variety of educational and interpretive programs for the public. The goal of these programs is to empower citizens to make informed decisions about natural and cultural resources. Center programs interpret the natural and cultural history of the area in order to demonstrate the balance between our needs and the needs of natural Florida.
For more information please call (727) 453-6800.
CENTER HOURS: The Education Center is open Thursday - Saturday 9:00 a.m. - 4:00 p.m., and Sunday 11:00 a.m. - 4:00 p.m.
VIEW OUR UPCOMING WEBINARS on our website HERE or on our Facebook page HERE.
Sign up to receive our monthly UPDATES!