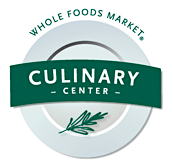 Bowery Culinary Center, Whole Foods Market
Increase your kitchen confidence!

Whole Foods Market's Bowery Culinary Center offers classes for urban home cooks of all skill levels with some of NYC's best chefs, artisans, and growers, including Whole Foods Market's own in-store experts.
We are the only Whole Foods Market cooking school
in the entire Northeast region. 
95 E Houston (at Bowery), Lower East Side, NYC
We are located on the second floor of the store, behind Whole Body.

Sorry, there are no upcoming events