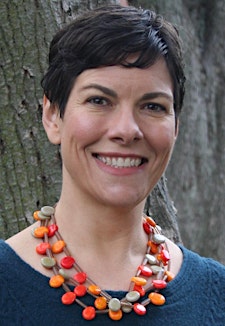 Blindspot Training
Corinna Bisgaier helps people who are facing major life changes to rediscover their sense of purpose and bring more joy into their lives. 
Since her teens, Corinna has been interested in how positive mindset, emersion in nature, engagement in the arts, exercise, and nutrition contribute to optimal human wellness. Since then, she has incorporated a wide range of tools and techniques in her quest to increase her own sense of purpose and capacity for joy. Through her practice, she has developed a wide range of experiential programs to help people find more connection and fulfillment in their lives. After spending the last 20 years working for organizations, Corinna is eagerly embracing her new challenge – to bring her successful practices to individuals in transition.
Corinna's former professional work has centered around developing educational programs integrating the arts, nature and wellness with local and national nonprofit organizations. In this work, she's always loved coaching, training, and consulting with organizations, teams, educators, and artists. She holds a Masters in Education from New York University and BA in English with a minor in African American Studies from the University of North Carolina at Chapel Hill.
Sorry, there are no upcoming events