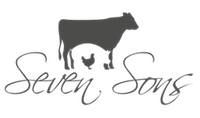 Blake Hitzfield @ Seven Sons Farms
Your Food. Our Mission.
Just like you, we're frustrated by the lack of transparency in our food system. That's why we've embarked on a simple mission to produce nutrient-dense foods that heal and nourish our land and those who eat of its bounty.
Radical Transformation

Nearly 30 years ago we operated a fully conventional farm. However, as a result of a family health crisis, we became convinced that how we manage our soil, plants and animals will directly affect the health of those who consume the products of our farming choices.
A New Vision

In the late 1990s we embarked on a radical journey to transition to a regenerative pasture-based farm. Due to overwhelming support from our loyal patrons, our vision was eventually realized as a farm-to-fork food venture that serves thousands of families with nutrient-dense foods grown from healthy regenerative soils.
"The vocation of bringing food to your table is more than business to us - it's a personal ministry and responsibility that we take very seriously!" – Lee & Beth Hitzfield (Founders)
Sorry, there are no upcoming events