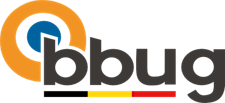 Belgian Blender User Group ASBL
Welcome on the Eventbrite page of the Bbug, the Belgian Blender User Group!
We are a growing community based in Brussels, Belgium centered around 3D and the Open Source software called Blender.
We are organizing free training and workshops each month since 2012 both in French and English.
We also manage both the Blending Game Jam with the Bifff and the paid workshops about video game development ; 'Les ateliers du jeu vidéo'.
Basically we have 3 goals :
To Help 3D professionals meet each others for either social networking or the sheer joy of sharing the same passion.

To share knowledge by providing once a month a workshop or some sort of training.




To that end, we have a free gathering place here in Brussels with both PC, Wi-Fi and projector.

To produce some sort of user generated content (released under a CC license) such as game prototype, add-on, short movies so we can both improve the visibility of the Open Source community in Belgium and introduce new members to the 3D world.
Sorry, there are no upcoming events