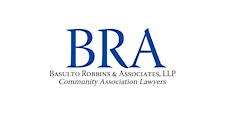 Basulto Robbins & Associates, LLP
 

Basulto Robbins & Associates, LLP


Community Association Lawyers




www.BRLawyers.com




Striving for Excellence...
At Basulto Robbins & Associates, LLP, we strive to provide exemplary service to our clients. We handle all facets of community association law, from collections and lien foreclosures to enforcement matters and injunctive relief actions. We recognize that many individuals play a vital role in a community; therefore, our staff works to address the specific needs of the property managers, board members, and homeowners who are dedicated to those communities. With a combined 30 years of experience, our partners, including a board-certified real estate attorney, currently serve as the community association lawyers for nearly 100 communities throughout Dade, Broward, and the Palm Beaches.
Raising the Bar...
At BRA, we seek to raise the bar by showing our communities the attentiveness that they deserve. An attorney is always willing to attend a meeting or take a call (in fact, property managers and board members have our partner's personal cell phone numbers should a need arise after hours). We make certain to provide the same high level of service to all our associations, whether their units are numbered in the twenties or the thousands.
Working Towards a Common Goal...
A community association law firm in a culturally rich area, many of our attorneys and staff are bilingual, speaking not only English but also Spanish and, in some cases, Hindi/Urdu as well. We believe in providing excellent service, and we believe excellent service can be provided at a reasonable rate. We charge no annual fees or retainers to our clients. Whether we are diligently working on collection matters or resolving a dispute amongst board members, all our actions serve a common purpose: creating secure, strong, well-run communities. Contact us to find out how we can assist you with that goal.
Sorry, there are no upcoming events