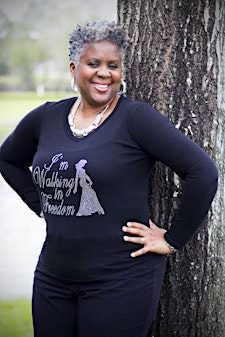 Author Rhovonda L. Brown/Creator & Host
Pastor Rhovonda L. Brown has a heart for God and a heart for the hurting. She has been called to serve God in multiple roles. Rhovonda is a wife, mother, grandmother, teacher and student of the Word of God. She is the author of Best Seller, Walking in Freedom! A Thirty-Day Devotional Journey for Women, and #1 Bestseller, At Least Say, "Thank You!" An 8-Day Devotional Plan for a Grateful Heart. Pastor Rhovonda is a speaker and preacher passionate about encouraging others to walk in freedom with Jesus Christ. She is the founder Martha & Mary Ministries, Walking in Freedom (M3), a women's devotional ministry dedicated to encouraging, empowering, and promoting self-worth and enrichment.  
Rhovonda is the creator of the Walking in Freedom! Retreat and Workshop that brings women together from all walks of life to be inspired, equipped, and empowered in their Christian journey. Biblical truths and practical applications are given, testimonies are shared to inspire, and women are motivated to impact lives around them. Rhovonda is the co-founder and co-pastor of The Sanctuary Christian Fellowship Church in Houston, Texas where her husband, Jeffrey Brown, is the founder and senior pastor. Together, they share the Gospel encouraging others to have an intimate relationship with Jesus Christ and create curriculums and activities for youth and adult ministries.
Rhovonda is working on a latest project, The Pillar of Hope, Inc. and nonprofit organization committed to enhancing the lives of members in the community.
Rhovonda has a Bachelor of Science in Business Administration. Through her journey of adversities and tragedies, Rhovonda has learned to embrace God's grace and freedom in Jesus Christ. She finds joy encouraging others to do the same.
Sorry, there are no upcoming events