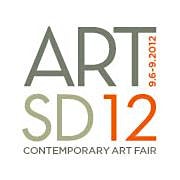 Art San Diego
ABOUT ART SAN DIEGO | The stage for ASD is Balboa Park, a 1,200-acre cultural and recreational oasis in the heart of San Diego — the largest such urban park in America. Balboa Park features a wide variety of museums, exhibitions, performing arts, world-famous gardens, recreational facilities, restaurants, and other attractions that serve over 12 million visitors annually. With New Art City, ASD aims to insert itself as a key actor in this production, nurturing and strengthening San Diego's art scene with a dynamic agenda.
ASD 2011 experienced tremendous success – exceeding targets for attendance with over 8,000 visitors and reporting strong sales by galleries. In 2012 we anticipate that more than 60 leading galleries from the USA, Canada, Europe, Latin America, and Asia will be taking part. In addition to the gallery booths, special features include gallery-curated exhibitions, "Spotlight Artists" featured in solo-artist exhibitions, video-based works featured in "IN/TO Creating Short Film Program", artistic interventions in public spaces "Art Labs", San Diego focused exhibitions "Made in San Diego", and the introduction of emerging artists and curators with the LaunchPad Program.
 
ASD offers a strong diversity of exhibitors and hopes to attract a new generation of art collectors by introducing work that can be purchased within the limitations of almost any budget.  A strong emphasis is placed on providing stimulating conversation about art acquisition, educational opportunities for both novice and experienced collectors, and personal talks with artists, film-makers, and designers.
Sorry, there are no upcoming events