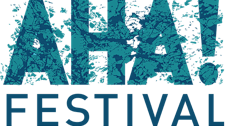 AHA festival 2016
For the third year, the AHA festival investigates the meeting between art and science in a three-day event at the Chalmers University of Technology hosted by the Department of Architecture and the Department of Physics. An international festival intended to provide enlightening experiences, staging surprises, new thoughts and displaced perspectives that lead to alternative modes of thinking about exploring the world through art and science. We invite scientists (physicists, historians, astronomers, engineers), artists (dancers, musicians, painters, poets, acrobats) who reside in these borderlands and wish to share their vision and work. The key intention is to celebrate both art and science as key knowledge building devices.

This year's theme is 'Uni-verse,' a natural consequence of our interest in the relation between art and science. The elemental force that drives science as well as art is curiosity. Come be curious with us!

The AHA Festival takes place October 31, November 1 and 2. 
Welcome to Chalmers, campus Johanneberg. 
Chalmersplatsen 1, second floor of the Kårhuset at the atrium level entrance of the RunAn conference hall. 

Everyone is welcome and admission is free.
Sorry, there are no upcoming events