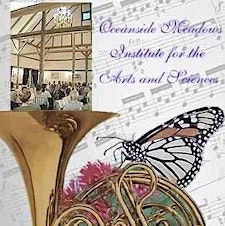 Acadia's Oceanside Meadows Innstitute for the Arts and Sciences
Oceanside Meadows Institute for the Arts and Sciences' home base is the restored 1820′s timber framed barn on the 200 acre preserve of Oceanside Meadows Inn in Prospect Harbor, Maine. The Institute was established by inn owners Ben and Sonja Walter-Sundaram with a goal of supporting the advancement of the arts and sciences by providing easier access for all, encouraging research, and promoting education.
The historic barn that seats 130 people was restored in the spring of 1998, transformed into a wonderful space for concerts, lectures and seminars which are held throughout the summer season. We look forward to welcoming you to our 21st year of programming.
Sorry, there are no upcoming events