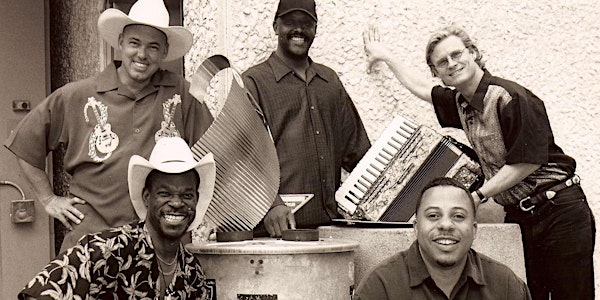 Zydeco Flames with opening act Michael McNevin & The Spokes
The West Coast's premier Zydeco band. Their timeless, sizzling roots rhythms create a relentless groove in the tradition of Clifton Chenier
When and where
Location
Almost Famous Wine Lounge 2271 S. Vasco Suite D Livermore, CA 94550
Refund Policy
Contact the organizer to request a refund.
Eventbrite's fee is nonrefundable.
About this event
21+ Doors at 4 pm. Opener begins at 5:30 pm. Main act starts at 7:30 pm.
The Zydeco Flames have gained a reputation as the West Coast's premiere Zydeco band. Their sizzling roots rhythms are timeless and the execution of them relentless, with a stunningly powerful groove in the tradition of Clifton Chenier, Buckwheat Zydeco and Queen Ida.
See them live at Almost Famous Wine Lounge, an award-winning, new tasting room and venue located on Vasco Road in the heart of Livermore's wine, spirits and brewery district. Almost Famous Wine makes fifteen wines in diverse styles, and earned 34 top industry awards since our debut last year.
There is a two drink minimum for each guest.
Reserved table seating is available for purchase at this show. Ticket sales are final. While we do not offer refunds, we are happy to apply the full credit of your purchase to another show. As a courtesy, please contact us at least 6 hours before your purchased show for a credit refund, at boxoffice@almostfamouswine.com
Unreserved table seats cannot be claimed first come, first served until 8:15pm. Upgraded seating must otherwise be purchased. Outside food is welcome, but please bus your table of any food items when you are finished. No outside beverages, including non-alcoholic beverages. With a menu of 15 wines in diverse styles, a water station, and sophisticated non-alcoholic options, there's something for everyone.
About Zydeco Flames
The Zydeco Flames have gained a reputation as the West Coast's premiere Zydeco band. The Flames consistently pack the house in venues ranging from contemporary clubs to major festivals and traditional dancehalls. Their sizzling roots rhythms are timeless and the execution of them relentless, with a stunningly powerful groove. The Flames' sixth CD release "Fire It Up", provides fans with hot Zydeco in the tradition of masters like Clifton Chenier, Buckwheat Zydeco and Queen Ida.
AwardsBest Zydeco Band, West Coast Blues Society (2006)Best Original Song ("Don't Worry"), West Coast Cajun & Zydeco Association (1997)
Lloyd Meadows(vocals, rubboard, harmonica, lyrics) Lloyd is a consummate entertainer and rousing crowd pleaser. His infectious energy infuses audiences wherever he performs. A classically trained singer, Lloyd's soulful, steamy style ranges from rock to blues to R&B, leading to a unique blend of Zydeco. His diverse musical background includes performances and recordings with Mal Sharpe's Big Money, Tom Rigney, Motordude Zydeco and Elvin Bishop. He appears regularly with bandmate and guitarist, Freeway Frank, at the notorious Twangfest.
Frank Bohan(guitar) Frank has musical roots deep in the styles of the Chicago blues. Flames' fans are energized by his masterful solos and rhythm guitar work. Frank also served as bandleader for Freeway Frank and the Hotwires, and has played with Johnny Copeland, Alvin "Youngblood" Hart, Ricardo Scales, and Johnny Nitro. You can find Frank on Saturday mornings hamming it up with Marin favorites in the "Frank and Ted Show" at the Coffee Roasters in San Anselmo and jamming every other Wednesday at the infamous "Twangfest" at Peri's in Fairfax with local luminaries Bonnie Hayes, Ted O'Connell, Jeb Harrison, Tal Morris, Eric Shram and Kevin Hayes (of the Robert Cray Band)
Bruce Gordon(accordion) Bruce has traveled extensively in southwest Louisiana,playing with some of the best cajun and creole musicians. He has recorded for film, radio and TV. He worked with Roy Rogers on a grammy nominated album for Ramblin' Jack Eliott, as well as performing with the likes of: Norton Buffalo, Jackie Payne, Luther Tucker, Elvin Bishop, Sista Monica, Kenny Neal and The California Honeydrops.
Timm Walker(bass, vocals, lyrics, producer, engineer) Timm is one reason why The Flames are known for having one of the tightest rhythm sections in the business. His performance credits include work with The Larry James Band, Roy Gaines, J.J. Malone, Sista Monica, Bobby Murray, and Andre Thierry. He is also a core member of The Elvin Bishop Band. Timm produced and engineered the Flames' most recent CDs, "Bank the Fire" and "Fire it Up;" founded and recorded the New Orleans flavored funk at Beaufunk and engineered and produced their first CD "Change Gone Come Fa Betta."
William Allums Jr.(drums) William's inspirational playing, with his unique brand of Louisiana-spiced rhythms, continues to draw fans to their feet and on to the dance floor. This multi-faceted player has deep roots in gospel music, hip-hop, funk and R&B.
About Michael McNevin & The Spokes
Michael McNevin's songs read like short stories, with a keen eye for detail. Accomplished guitar work and seasoned vocals underscore the characters and places he comes across in his travels. Tales of heart, humor, odd and interesting stuff unravels with the travels, and the small home town quirks growing up in the train town of Niles, CA. He started playing underage in San Fransisco East Bay bars, mixed in a six-month stint busking the streets and subways in New York, and has has since logged 25 years on the U.S. songwriter circuit and parts of Europe. He's shared hall stages with Johnny Cash & The Carter Family, Donovan, Shawn Colvin, Richie Havens, Robert Earl Keen, Iris Dement, Rosanne Cash, Greg Brown, and many of others. He's been a main-stager at Strawberry, High Sierra, Kerrville, Redwood Ramble, American River, Philly Folk Fest, and SummerFolk in Canada. Winner of the Kerrville New-Folk award in Texas, Performing Songwriter Magazine "DIY Artist Of The Year", 8-time grand finals "Song Of The Year" honors for West Coast Songwriters. Placed 3rd at both the Rocky Mountain Folks and Telluride Troubadour Competitions in Colorado, and was nominated Artist Of The Year by the National Academy of Songwriters. In addition, Michael is an Etch A Sketch artist of some renown, delighting and dumbfounding audiences. Not kidding, he illustrates his songs on the little red toy. When not on tour, Michael owns and operates The Mudpuddle Shop, now in it's 15th year. A converted 1920s barbershop on Niles Blvd, it is a creative hive for acoustic songwriter concerts and workshops, jams and song swaps. His Etch A Sketch drawings hang proudly on the shop walls, waiting for an earthquake.
"...heard you on the KFOG acoustic Sunday morning show ...bagging groceries and an Etch-A-Sketch. Two of my historical accomplishments — dig the tunes."
~ Tony Bennett
"I don't know what's best about 'Sketch' - Michael McNevin's music or his Etch-A-Sketch drawings that accompany each song. McNevin is a singer songwriter of the highest order..."
~ Acoustic Guitar Magazine
"Secondhand Story" is an evocative peek into a stranger's life."
~ Chicago Tribune
"The talent of Michael McNevin lies in his ability to extract juicy bits of life from his surroundings and let a tale unravel from each one." ~ The Performing Songwriter Magazine