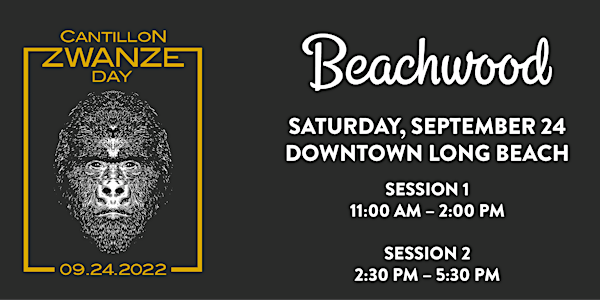 Zwanze Day 2022 at Beachwood!
It's that time again! We are thrilled to be participating in Zwanze Day 2022 as we gather in DTLB to celebrate.
When and where
Location
Beachwood Brewing Downtown Long Beach 210 E 3rd St. Long Beach, CA 90802
About this event
It's that time again! We are thrilled to be participating in Zwanze Day 2022 to celebrate a wonderful, rare beer by the legendary Brasserie Cantillon taking place Saturday, September 24, 2 sessions at Beachwood Brewing Downtown Long Beach.
Tickets go on sale Wednesday, September 7th, 2022, at 10:00 am PT. Limit 2 tickets per transaction. Tickets are $125 plus the ticketing fee. Ticket includes glass pours from Cantillon and Blendery listed below plus a commemorative event Zwanze glass and t-shirt.
From Cantillon: This year's Zwanze is a two-year-old Lambic blend with black pepper. For this year's beer, we worked with Sandrine from Misao: La Maison des Poivres here in Brussels. Sandrine had us try various types of Congolese pepper, and we eventually decided on one called poivre de Gorilles. This pepper grows wild in the forests of the Republic of the Congo. Aromatic, but not too spicy, it blends beautifully with the refreshing acidity of our Lambic. The result is a beer that will pair marvelously with meat or fish.
The name poivre de Gorilles comes from the area where it grows, in Likouala Forest, located in the northeastern region of the Republic of the Congo. This forest is home to a significant population of Lowland gorillas – a species in danger of extinction. That's why we'll be donating a portion of the profits from the event to Gorilla (https://www.gorilla.fr/), an organization that works to protect these Great Apes. Santeï !!
The event will be held in two separate sessions. Please be prompt to your session.
SESSION 1: 11:00 AM – 2:00 PM PT
SESSION 2: 2:30 PM - 5:30 PM PT
PLEASE NOTE: All ticket sales are final. We will not be able to accommodate any changes to the sessions purchased.
DETAILS
- MUST be 21+ to purchase a ticket & attend the event. All guests are required to show a valid ID to enter this event.
- Due to our limited amount of space, ONLY ticket holders will be permitted into the event. Children or anyone without an event ticket will not be permitted.
- Event will be communal seating at tables.
- All sales are final. No refunds will be issued.
Specialty food menu items alongside the Beachwood menu will be available for purchase.