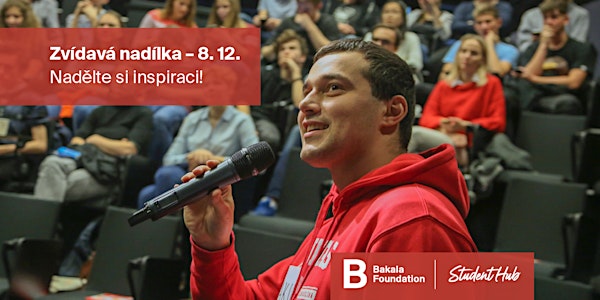 Zvídavá nadílka 2022: dopoledne plné přednášek a workshopů pro studenty
Předvánoční dopoledne nabité přednáškami a workshopy na aktuální témata a samozřejmě o studiu v zahraničí.
When and where
Location
Skautský Institut v Rybárně U Sovových Mlýnů 134/1 Malá Strana 118 00 Praha Czechia
About this event
Chcete se v jednom nabitém dopoledni dozvědět víc o těchto tématech?
➡ Jaké to je studovat na střední a vysoké škole v zahraničí?
➡ Důvěřuj, ale ověřuj: Jak se stát digitálním Sherlockem
➡ Transformační potenciál (nejen) v architektuře
➡ Británie po Brexitu: slabá a chaotická?
➡ Zdravý (studentský) talíř
➡ a další..
Zvídavá nadílka je tu pro všechny studenty středních škol, kteří se chtějí dozvědět víc o aktuálních tématech a/nebo je zajímá studium v zahraničí. Přednášet totiž budou naši absolventi - studenti, kteří se stipendiem od Bakala Foundation vystudovali nebo právě studují různé obory na zahraničních univerzitách, ale i další odborníci z oboru.
KDY: ve čtvrtek 8. prosince 2022 od 9:00 do 12:30
KDE: Skautský institut v Rybárně, U Sovových mlýnů 134/1, Praha 1 – Malá Strana
PROGRAM - na co se můžete těšit:
Přednášky a workshopy ve 25 - 45-minutových blocích v českém jazyce. 
Zájemcům o studium v zahraničí budou k dispozici studijní poradkyně Kristýna Burdová Borsodi a manažerka programu Scholarship Jana Wittbergerová.
V předsálí najdete info stánky partnerských organizací DofE, American Councils Czechia (poskytovatel stipendia FLEX) a Fulbrightovy komise (program Education USA).
O přestávkách bude zajištěno občerstvení a nápoje.
Účast je pro všechny ZDARMA! Registrace je nutná.
➡ v případě, že registrujete celou třídu, pošlete email na: luckova@bakalafoundation.org
Máte dotazy k této akci? Napište nám!
Více informací o Zvídavé nadílce: https://www.bakalafoundation.org/student-hub/akce-a-workshopy/zvidava-nadilka/
 Akci pořádá nadace Bakala Foundation. Poskytnutím Vaší e-mailové adresy dáváte organizátorovi akce svolení nakládat s poskytnutými daty za účelem občasného zasílání novinek a pozvánek na akce. Tento souhlas můžete kdykoliv odvolat. 
Na této akci budou pořizovány fotografie. Svou účastí potvrzujete, že souhlasíte s fotografováním Vaší osoby a možným použitím fotografií k propagačním účelům nadace Bakala Foundation. Pokud si to nepřejete, prosím informujte nás před začátkem akce.