Description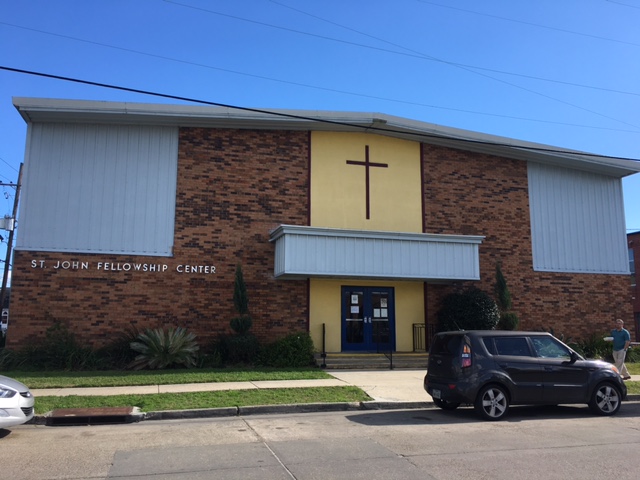 *This is the building where we have our classes. It is in the back of the campus on N Pierce (one way towards Canal so you need to cut through Walgreens or go around the block via Carrollton to Iberville). Parking is on the right of the Gym.
****$$$$**** YOU DO NOT HAVE TO PURCHASE TICKETS HERE! IT IS ONLY $4 IN PERSON ****$$$$****
**This class is for people 13 and up only. Zumba for grown folks is different than Zumba for kids because kids have different needs and abilities. Also some of the music in my adult class can be a little "colorful" or "spicy" also. ;-)**
About the classes:
Zumba is dance fitness that incorporates lots of Latin beats plus many other dance/music styles from all over the world. Anything from Reggae to Reggaeton and from Hip Hop to Bollywood. The playlist is patterned into a formula designed to keep you moving and having fun while burning lots of calories, toning muscles you may have not even known you had and getting the best cardio workout possible. The people who attend these classes come from all backrounds and all body types and all ages. This is a great place to make friends and share your struggles and your triumphs. We are a community and we are always happy to welcome more friends.
Why Zumba?
Not only is Zumba a great workout for your body, it is an amazing stress reliever. For one hour all you need to think about is dancing. How great is that? And scientists have proven that people who dance on a regular basis, especially patterned or choreographed dances, are actually helping to lessen the symptoms of depression and anxiety while also strenghthening their brain! Plus, where else can you shake your booty in comfortable clothes and shoes without alcohol, smoke or creepy people but still in the company of friends?? And hey, if you do go out to the club, now you'll have some fancy moves to impress all your friends!
About the instructor:
Priscilla Babin began attending Zumba classes in December of 2011. She decided she wanted to share her love for dancing and getting fit and on June 2, 2012, Priscilla received her license to teach Zumba classes. She is the wife of Pastor Ken Babin and the mother of 4 beautiful children. Priscilla is a member of ZIN (Zumba Instructor Network) and CPR/AED certified. She is also trained in Zumba Core and Zumba Glutes. She is licensed to teach Zumba Basic 1 and Zumba Kids/Kids Jr.
Other ways you can keep in touch with S & W Z Fitness:
YouTube! www.youtube.com/channel/UCrHo0DKPzrIKoxowjRzTVsg
Facebook www.facebook.com/SandWZFitness/
Instagram www.instagram.com/sandwzfitness
Website skittlesandwiggles.webs.com