Description
TICKET UPDATE:
Tickets will be available at the door on Saturday night but will require a wait in line.
*Paia Inn Presents*
Z★TRIP
WEEKEND TAKEOVER AT CHARLEY'S
Friday, February 23rd - ALL DIGITAL
Saturday, February 24th - ALL VINYL
*Single and Two-Night Passes Available*
**Visuals by Audacious**
HISTORY IN THE MAKING ON MAUI: 1 SMALL VENUE - 2 BIG SHOWS BY LEGENDARY ARTIST!!
Z★Trip's past performances at Charley's Restaurant & Saloon (2012 & 2016) were two of the most electric concerts Maui has ever seen - sold-out shows with mega-buzz around town + euphoric dancing and singing + smiles from ear to ear on every face from the moment the doors busted open until the final notes awashed the ecstatic, sweaty audiences. Just how good? When Z★Trip wrapped his most recent Charley's concert (December 2016), he declared it his *favorite* show of the *entire year* - a massive proclamation considering he performed in front of 50,000+ crowds multiple times in 2016. The Z★Trip ⬅➡ Maui connection is as good as it gets.....so, we're doubling-down: Z★TRIP WEEKEND TAKEOVER - DIGITAL VS. VINYL.
★ Friday, February 23rd - ALL DIGITAL - Shake Yo' Butt Rager
★ Saturday, February 24th - ALL VINYL* - Mr. Toad's Wild Ride, Live DJ Mixin' At Its Finest
*The Saturday, Feb. 24 show will be all vinyl and also all 45's! Z-Trip literally carting his favorite 7" records to Maui just for you. Vintage classics to left field crate-digger discoveries all mashed together Live before your eyes - a high-wire act by the original master.
Z★TRIP - LEGENDARY ARTIST - DANCE PARTY KING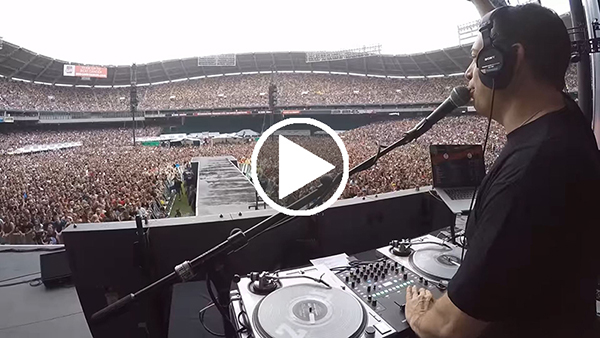 Z★TRIP WEEKEND TAKEOVER AT CHARLEY'S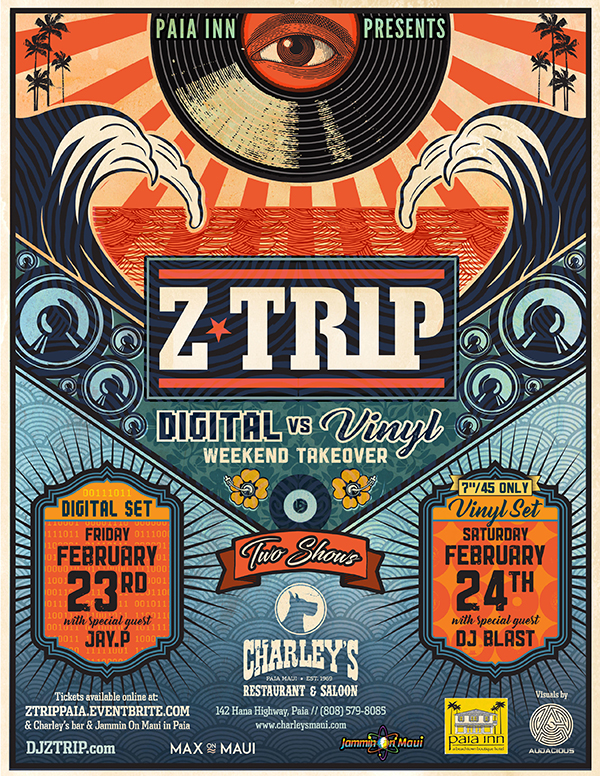 Z★Trip brings his stadium-sized act back to Maui for two rare club shows. We couldn't be more excited about his return to Paia for his WEEKEND TAKEOVER of Charley's Restaurant & Saloon - DIGITAL vs. VINYL. Z★Trip has the power to ignite tens of thousands of people creating the largest dance parties ever seen. Place that energy in the cozy confines of Charley's, and you have the makings of an unforgettable night. Adding to the mix are visuals by Audacious presenting Charley's in a light rarely seen and commensurate with the level of performance.
Not familiar with Z★Trip? A quick glance at his resume shows that this pioneer has done it all in the electronic music world including performing to a 450,000-person audience as the opener for the Rolling Stones, scoring multiple Top 10 singles through his major label release, 'Shifting Gears,' and designing Z-Trip-branded DJ gear for iconic manufacturers, Rane and Serato. After first bursting into the spotlight in 2001, Z-Trip shows no signs of fading away. His 2016 set at Austin City Limits festival lwas hailed as a highlight of the star-packed weekend, his past tours with LL Cool J drew crowds of over 50,000 (see above video) and last month, he headlined the award ceremony when LL Cool J was presented with America's highest arts honor.
The best part? Z★Trip brings something to the table for everyone with his famed mash up sets covering every base. Even after all his success, Z★Trip approaches ever show with humility and passion - laser-focused on getting EVERYONE to embrace the moment mixing classics known to all with endless surprises like only Z-Trip can.
Something special is brewing - two rare club gatherings that no large-scale venue can match. Grab your ticket before they're gone - historic night ahead.

Z★TRIP NEWS & BIO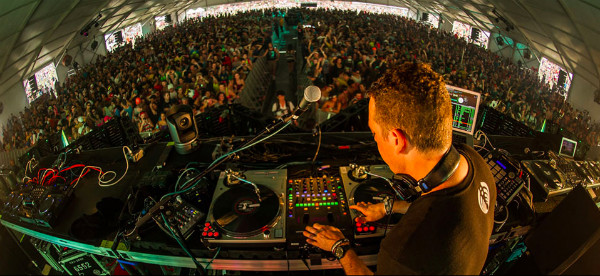 HOT NEWS - DECEMBER 3, 2017: Z★Trip Headlines Kennedy Center Awards Ceremony for LL Cool J
★ STORY: On Sunday, December 3, 2017, LL Cool J received a Kennedy Center Award (the highest honor for American artists), and LL Cool J's right-hand man, Z★Trip, headlined the ceremony. Z★Trip was originally scheduled to play Maui on December 1st and 2nd but had to reschedule the Maui shows upon receiving the call from LL that LL was receiving America's highest honor and wished to have Z★Trip anchor the affair.
★ VIDEO: 2017 Kennedy Center Honors - Z★Trip headlines the award presentation to LL Cool J

BIO
Legendary DJ and one of the best live performers in the world.
America's Best DJ Award Winner and Voted Top 10 DJ year after year.
Frequent stand-out performer at Coachella, Lollapalooza, Bonnaroo, SXSW, Australia's Big Day Out, Electric Daisy Carnival, Electric Zoo, etc.
Multiple Top 10 Singles from Z★Trip's major label debut, 'Shifting Gears.'
Collaborations with LL Cool J, Public Enemy, De La Soul, Talib Kweli, Lee "Scratch" Perry, Chali 2na, MSTRKRFT, Bassnectar, Santigold and more.
Designed his own Z★Trip brand of DJ gear for iconic manufacturers Rane and Serato.
Z★Trip - LIVE Mixin' Can't Be Beat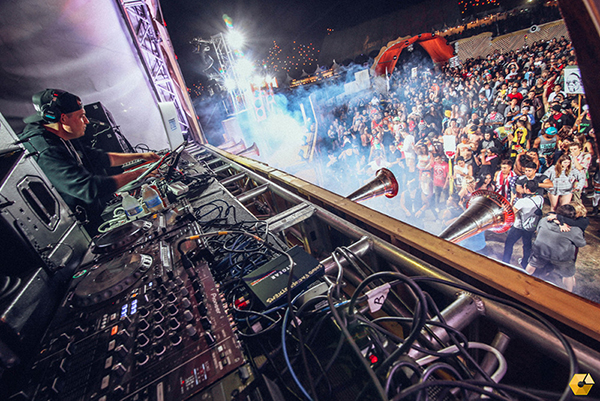 Z★Trip:
"I recently played at Coachella and eighty percent of DJs were just playing songs, not playing with the songs. Or they were just playing pre-mixes of songs, which is totally counter to the culture I grew up with and respect and admire. Not to knock them, they were cool, the crowd was cool, everyone was cool with it, but it's just not what gets me inspired.
I equate it to you like this. You wouldn't see The Black Keys playing a live concert and midway through their set they start crowd-surfing but their music is still playing. Then when they come back on-stage the next song is on. It doesn't happen that way. You wouldn't see that and, if you did, they would lose all their fans.
I am inspired by innovators like Grandmaster Flash and Jazzy Jeff. They would perform and they were clearly doing the work. You could see and hear it in real-time and recognize there was the ability to fuck up. When you are on a highwire fifty storeys up and there's no net, it changes the stakes: if you fall, you die.
For me, the bigger the risk, the bigger the game."
More from Z★Trip on the power of the Live mix
Z★TRIP
WEEKEND TAKEOVER AT CHARLEY'S
Friday, February 23rd - ALL DIGITAL
Saturday, February 24th - ALL VINYL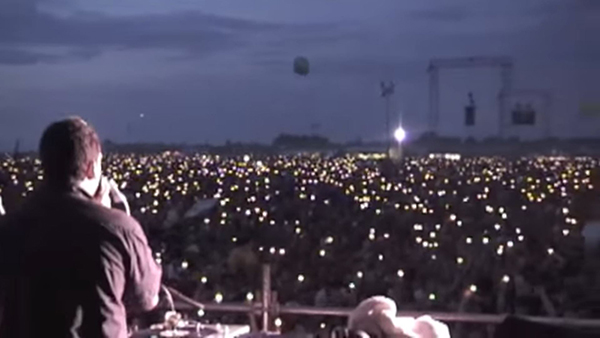 SPECIAL THANKS TO OUR SPONSORS WHO HAVE HELPED MAKE THIS EVENT POSSIBLE