Description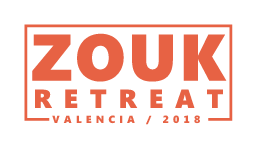 ---
ZOUK RETREAT VALENCIA 2018 | Make your creativity flow
---

When the body dances the soul gets free
Previous invitation to reserve your place in Zouk Retreat Valencia 2018 Make your creativity flow.
The Zouk Retreat 2018 is a Life-Experience Dance course which investigates new learning techniques related to the knowledge of your body and your partner in the social dance. We have the support of dance teachers, therapists and psychologists. All of them became a team that put Liberato Methodology into practice through Brazilian Zouk in a carefully elaborated experience where the dynamic activities intertwine with spaces to share, conferences and dance sessions. Inspired by both - traditional dance and free dance, the methodology investigates concepts related to connection, communication, and body expression, being the primary objective to reach a greater enjoyment and surrender in couple dance.
---
---
★ Dates are available
8 -9-10-11-12-13 july 2018 | 6 days / 5 night
15 -16-17-18-19-20 july 2018 | 6 days / 5 night
22-23-24-25-26-27 july 2018 | 6 days / 5 night


---
Each participant or couple will be able to choose one of the weeks and advise which week is chosen in the email sent for reservation. There will be maximum 40 attendees to experience the deep and personalized learning experience.
Promotional price until july 01, 2018. ► 851€ ◄
Copyright © 2017 | ZOUK RETREAT | All rights reserved.