Zoot Suit Riots: Pachuco Style As Resistance
About this event
SPECIAL EVENT - BUS TOUR - BACK BY POPULAR DEMAND
In the 1940s there was a subculture style known as the Zoot Suit; attracting a diverse group of young enthusiasts to the fashion and sounds of jazz, who embraced the glamor of the Hollywood silver screen. And then it all erupted – from the Aragon ballroom in the beach cities to the Orpheum Theatre in downtown Los Angeles – the so-called Zoot Suit Riots which was actually a storm of violence against these young people, perpetrated by US Navy servicemen and the police.
Though how did this tidal wave of violence specifically against Mexican American zoot suiters known as pachucos all start? Well, we're going to take the story back to the beginning and learn the way that brown youth became the scapegoats of an era of white societies hyper US-nationalism; and targets when these pachucos refused to adhere to boundaries of racial segregation which dominated that era, choosing to instead stake a claim in society like everyone else.
We will learn how working-class immigrant parents and their children have historically been labeled as delinquent; even targeted and unjustly criminalized. And how this has long been part of the street-to-prison-system in urban communities.
We will unabashedly demystify the "gang" myths created by white sociologists, and reclaim our own social club and subculture heritage. We will celebrate pachuco style as a form of resistance and as an expression of our agency; which still has significance today.
And as we tell this story, we will further reveal how the events of the Zoot Suit Riots have echoed down the ages with historical significance for Mexican American people to this day.
Here are some of the sites which we will feature on this tour:
Sleepy Lagoon – We are going to Southeast Los Angeles to visit the general location of the swimming spot known as Sleepy Lagoon; and we will discuss the murder of a Mexican American young man and the aftermath of this mysterious death caused. Will will learn how this crime captivated both white and Mexican American communities; and how the public became obsessed with pachucos, which they understood to mean "punks". We wlll talk about how civic leaders and autorities began to label our youth "pachuco hoodlums and baby gangsters," and how racist sociological theories gave birth to this persisting slur.
The Herald Examiner – We will visit the site of one of the newspapers which spread hysteria about zoot suiters and Mexican American youth in general; and how their yellow journalism lead to the abuse and mass criminalization of our youth. We will further talk more about the role of journalism in racialization and criminalization. We will also acknowledge the work of fearless journalist such as Al Waxman of the Eastside Journal and L.A. Reporter, which were the only newspapers in the country to editorialize the injustices of the riots; a lone position Waxman and his publications would also hold during the interment of Japanese Americans.
Orpheum Theater – We will visit this famous movie palace which attracted starstruck pachucos; even though as "colored people" they were only allowed to sit in the middle, balcony area. At this location zoot suiters were beaten by servicemen and stripped of their grand attire, while the police watched and in some accounts even assisted.
The Hall of Justice – We will pass by the building which became one of the central theaters of this drama. We will see the place where the Sleepy Lagoon defendants were paraded before the public; having been denied the ability to change clothes or cut their hair during the duration of their defense. We will look at the hall where justice failed and where the battle to overturn their conviction was waged.
The Navy Armory and Chavez Ravine – We are going to actually visit the location where the Navy servicemen who perpetrated the riots were trained and stationed, just steps away from the residential communities of Mexican Americans of Chavez Ravine. We will talk about how this land near Dodger Stadium is just layered in trauma.
The Paramount Ballroom – This spot in Boyle Heights has been filled with song since the 1920s, when Yiddish socialists hymns and the tunes of jazz greats filled the auditorium of the Community Co-op; it was a place of civil and social progressiveness. By the 1950s it would be known as the Paramount Ballroom, and would be the main destination in the barrio for enjoying the sounds of jazz, cumbias, merengue, mambo, samba and salsa; especially anything with a Latin dance beat. In the 1960s it would be a main location of the Chicano music and brown eyed soul; the home of the famous eastside sound; even Huggy Boy would broadcast from here! By the 1980s it would be the location of Vex, the first punk club in East Los Angeles!
Phillip's Music Co. – We will discuss the most important music institution in Boyle Heights history, where Bill Phillips specialized in selling and recording everything from "Jewish Melodies" to "Música Mexicana." He also was a volunteer music teacher, so this is where most local musicians got their start. We will also talk about the role of allies such as Bill Phillips and Norman Gantz in raising money for the Sleepy Lagoon Defense Committee, which would hire them a sympathetic Jewish lawyer to defend them. Did you know that Bill Phillips was also the treasurer for Edward Royball's election campaign, helping to elect our first Mexican American city councilman and congressman of the modern-era?
LA Plaza de Cultura y Artes – We will be returning to the plaza, where we will be welcomed as special guests into this museum and cultural center which celebrates the Mexican American and Chicano history of Los Angeles. He we will be able to see actual Zoot Suits used in the famous productions of the play and movie Zoot Suit by Luis Valdez; this productions helped many people recognize the importance of Chicano theater and storytelling; and would be remembered forever as the first Chicano play on Broadway. Now don't forget to present your tour bus tickets at their giftshop called La Tienda to get an amazing discount on your purchases!
On this tour we will even get a chance to admire modern day zoot suit style and meet some of today's pachuco vintage extraordinaire who are keeping the heritage alive!
The zoot suit culture is a one that we will embrace as a Chicano influence; while also acknowledging the "race-mixing" and multiculturalism of this movement. We will show how the zoot suit is historically a blending of many cultural influences of working-class American youth of diverse ethnic backgrounds; including African American, Jewish, Japanese, Filipino, as well as Mexican American.
Join historian and community organizer Shmuel Gonzales the Barrio Boychik founder of Boyle Heights History Studios and Tours and historian with The Studio for Southern California History, as we explore and vividly bring this story to life; with the use of music, breathtaking photos, and even special video and a touch of drama.
Join us on this special chartered bus tour to explore one of the most important chapters of the story of Los Angeles. On this bus we will not just talk about history, we be going to these sites to walk in the footsteps of history!
We will be meeting in front of the LA Plaza de Cultura y Artes gift shop called "La Tienda," located 424 N. Main Street, Los Angeles, CA 90012. Do arrive early, as we will start checking in participants and loading the bus starting at 11:45am to depart promptly at 12-noon, and we will be returning to this location by 4pm.
PUBLIC TRANSIT: We recommend that people come by public transit. You can take any one of the major Metro Rail trains and MTA buses to Union Station. Our meeting spot is just two blocks away from Union Station, near the Plaza de Los Angeles State Park – Olvera Street, near the front entrance of the Plaza de Cultura y Artes bookstore called "La Tienda."
PARKING: Ample parking is available in public lots in the surrounding area of the Plaza. Parking rates vary. La Plaza de Cultura y Artes' parking lot is located at the lot located at Arcadia and Spring Streets at 171 Arcadia Street, entrance on Arcadia. L.A. County Parking Lot 15 is located at 527 N. Spring Street at Avenida Cesar Chavez, entrance on Spring. Main Street parking is strictly prohibited. Union Station also has all-day parking available; though it is limited
Breakfast or lunch recommendations: La Golondria Restaurant is the oldest Mexican restaurant on Olvera Street, it is actually one of the few occupants to be in continued to operate since the creation of this attraction in the 1930s. The restaurant is also located in what is actually the oldest brick building in the city going back to 1850s; Pelaconni House, built by Italian immigrants. It is an historical gem and a most tasty place to eat!
Snacks and drinks: Do feel free to bring snacks and non-alcoholic drinks to enjoy during your ride. Grab yourself some Mexican treats from the placita to enjoy. Keep in mind that we will not have any stops for food or drink along the way as we make our way into out of the way barrios. We will find ourselves in areas without any vendors located near our tours sties; so it is important to plan accordingly regarding snacks and drinks.
Ticket sales from this event go to support the space and programming for the new Boyle Heights History Studios - the first history museum of Boyle Heights, East Los Angeles; where we promote the historical storytelling of Boyle Heights, as told by the people of Boyle Heights. Thank you for your generous support!
REMINDERS: This is a special event; there are no cancellations, refunds or future credits for passengers who miss the bus.
TERMS AND CONDITIONS: https://www.bhhistorytours.com/terms-and-conditions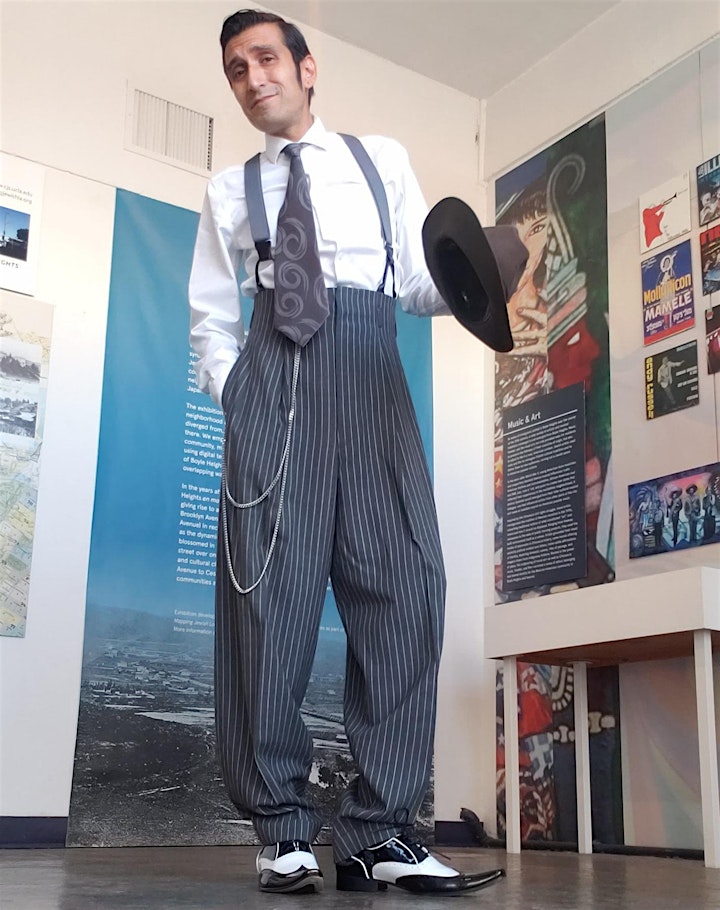 Location
LA Plaza de Cultura y Artes - Meeting in front of "La Tienda" Bookshop
501 North Main Street
Los Angeles, CA 90012
Refund policy
Organizer of "Zoot Suit Riots" Bus Tour
Shmuel Gonzales, the Barrio Boychik, is a community organizer and local historian from Boyle Heights, East Los Angeles. As a Mexican American with roots in early Los Angeles and as a Jewish community leader in today's eastside, it is his great pleasure to share with you the neglected stories of the diverse faith cultures of our great city.
He is the founder of the Boyle Heights History Studios (& Tours) - a community cultural center which is funded entirely by donations in the form of tour ticket sales; enabling us to maintain the heritage of our neighborhood. He also is the founder of the Boyle Heights Chavurah - the grassroots Jewish fellowship of East Los Angeles.
Shmuel is also a member of the Board of Directors for the Boyle Heights Historical Society. He is also the in-house community organizer for the Pico Union Project, a community center located in the oldest remaining synagogue in Los Angeles. He is also a lay religious leader and the chair of the Jewish Ritual Committee for Beth Shalom of Whittier, serving the communities of Southeast Los Angeles. As well as volunteer my time for a multitude of projects related to the historical preservation of the working-class community of Boyle Heights, East Los Angeles.