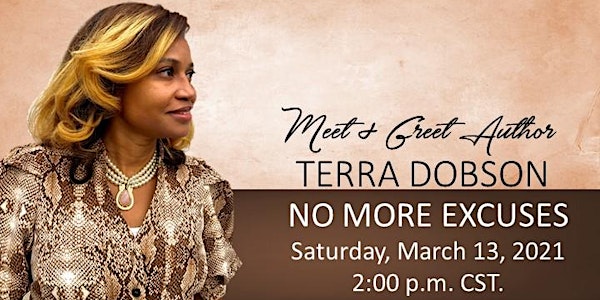 ZOOM BOOK DISCUSSION NO MORE EXCUSES
Terra Dobson is a prophet, teacher, preacher of the gospel of Jesus Christ, a blogger, and author.
Date and time
Starts on Saturday, March 13, 2021 · 12pm PST
About this event
Have you ever felt like you were stuck in life or that God has forgotten about you? Do you feel hopeless regarding your future? Don't you dare give up! Rest assured, God loves you and He has a significant plan for you! "No More Excuses: You Are Destined For Greatness," will provide tools to strengthen your faith and cause you to believe God against all odds. Don't you stop believing! It doesn't matter how long you've been waiting for God's promises to be manifested in your life. The truth is GOD'S GOT YOU! God hasn't abandoned you. God's promise will happen for you.
Reserve your spot to hear Terra Dobson share the most poignant inserts from her book "No More Excuses, ask questions, and added to a drawing to receive a personalized signed copy of her book.
Steps to Join This Event:
1. Register on Eventbrite to get your tickets and reserve your spot.
2. You can order your book at amazon.com. No More Excuses
3. You will receive a zoom link after registration.
Terra is looking forward to meeting with you!
No More Excuse
You Are Destined for Greatness!