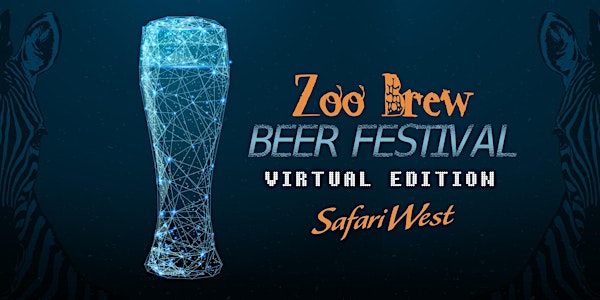 Zoo Brew Virtual Beer Festival
The First Animal Themed Virtual Beer Festival
Refund Policy
Contact the organizer to request a refund.
About this event
The Zoo Brew Beer Festival is going digital this year as we bring the beer straight to you while you stream the tastings with different breweries and explore the Safari West Park featuring interviews with their animals and rangers. This interactive beer experience comes straight to your living room along with a case of 10 special West Coast beers and featured swag. The event is a virtual experience featuring guided tastings with different breweries, animals, interactive games, and band performances. On July 11th, the show will be live streamed at 7pm where you can interact with our hosts, brewers, and other virtual beer festival attendees.
Expect all new beers that did not appear in our other Virtual Beer Festivals inclduing some animla themed ones.
Delivery
When you buy your ticket, your case of 10 Beers will be shipped directly to your door. You must be 21+ to accept the delivery. Packages can only be delivered to residents of California, Oregon, Washington, Arizona, and Nevada.
Pickup
Pickups will only be in select areas of Southern California on Friday July 10th from 4pm-7:30pm, which include Los Angeles, Orange County, Northern San Diego, and Downtown San Diego.
For Downtown San Diego: Tavern and Bowl: 930 Market St, San Diego, CA 92101.
For Northern San Diego: Tap That in Oceanside: 3207 Roymar Rd, Oceanside, CA 92058.
For Orange County: Network Brewery: 1824 Carnegie Ave, Santa Ana, CA 92705.
For Los Angeles: Honest Abe in Carson: 17812 S Main St unit a, Gardena, CA 9024
Contents of The Package
The package contains 10 full 12oz-16oz cans of beers. It is made for 1-2 people. 1 person if you are a huge beer drinker. 2 people, if you are a moderate beer drinker. Please put your beers in the refrigerator once it arrives. The featured swag of the event is the color changing reptile souvenir cup.
Virtual Video Link
A video link will be emailed to you the day before the event. The video is shown live at 7pm to 9pm where you can interact with our virtual chat. After 9pm, the video link can still be accessed without the interactive chat.