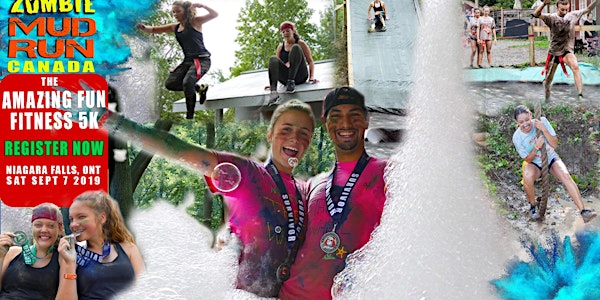 Zombie Mud Run Canada 2019
When and where
Location
Campark Resorts Campground 9387 Lundy's Ln Niagara Falls, ON L2E 6S4 Canada
Description
Get ready for Canada's funnest fitness 5K event…featuring over 20 Obstacles, slides, tunnels, scare houses and more. An Amazing DJ, 10,000 watts of your favourite music fill the BRAND NEW 5K course…enough to get the UNDEAD dancing. The is the one run you do not want to miss. The layout features lots of natural and man made trails, water and hills throughout the run. You must navigate through the entire course with at least one life strip left to get the Survivors Medal. Vaccination stations allow you to earn more life if you lost your life strips zombies…losing your life lines gains you the Infected Medal at the Finish Line.
How do you avoid the large hordes of the undead?
Intelligent planning of your escape route is essential. Being quick and intelligent is your best tool when navigating to your ultimate survival. Fear and panic are your worst enemies, so learn to conquer that and keep your eyes on the mountain and LIVE! But the best tip of all is to stay with a team, this increases survival chances by 50%.
The after party will have a band playing with drinks. Participants receive a t-shirt, medal, drink ticket and access to the Survivor party.
*Junior Heats for 13 Under Runners are at 12:00pm and 12:30pm and YES you can run with your Junior if you have a Runner/Zombie Ticket or otherwise walk alongside.
**The Elite Heat is always the first heat in the morning only and can win you the Official Haunt Manor Gargoyle Trophy!
Heats:
9:30am
10:00am
10:30am
11:00am
11:30am
12:00pm
12:30pm
FAQ
Is the course new this year?
Each year the course is changed up and improved, new obstacles are added and newer, better zombies are arise.
What happens if you lose all life lines?
Don't worry yet. Find your nearest vaccination station where a staff member will give you an additional life line. If you cross the finish with no life lines, you will join the ranks of the undead.
Do you need to bring money or are credit cards accepted?
Cash is recommended for purchases on race day. Credit cards are for online registration only.
Are teams allowed?
Most definitely! It will help your chances of survival and team work is another key to survival.
What should I bring if I am camping the night in a cabin or staying on site?
For all cabins you should bring your own linen. If you forget your linens, do not worry, we have some available for a small fee in the store. The basic cabins are like a wooden tent and you will need to bring your own cooking materials and utensils, etc. There are deluxe cabins and cabanas available that will have more features. The location is mainly a camping resort so the usual camping equipment is needed.
When is the survivor's party?
Saturday, September 8th from 9:00am to 2:00pm. Beer tickets are only available after 11am for legal reasons.
How old can I be to race?
Any age. However if you are 13 and under on the date of September 8 2019 you must sign up for the Junior Run.
If you are under 18 what do you need to bring to run?
A waiver must be signed by a parent or legal guardian that must contain the name of a person who can be contacted in case of any emergency.
What if you get hurt?
Staff will be on location to administer any first aid needed and get you back into the race if that is possible. If you cannot continue the race, unfortunately we cannot refund your entry fee. In the case where staff cannot administer the necessary first aid, you may opt to be taken to the nearest hospital. If you do go to the hospital, this decision is up to you and any and all costs that result. Paramedics are always at our event also.
If I cannot make the run can I transfer my ticket to someone else?
Yes, as long as the runner meets all requirements of the race, including their age and the runner has the printed ticket with a confirmation email granting them the right to use the ticket. Also, the new runner must complete a waiver at registration.
What obstacles will there be?
The Zombie Escape course will be made up of obstacles that are unique to our event. They will be amazing and fun and doable for everyone. Stay tuned for the updated map. The idea is that everyone has a great time so no obstacle is impossible to do.
Are the zombies slow or fast and will they chase me down or touch me?
You will find out the day of the event but be prepared to run, climb, crawl and escape hordes of zombies. Your very fate is in your hands.
I am not in the best shape, can I participate?
Yes, definitely, this is a fun event and "non-competitive." You can walk and rest as needed any time and there will be hydration locations. You can bypass any obstacle you feel you cannot do. Consult a physician prior to the race if you are not sure. Note: The first Heat is competitive but anyone can run in it.
What do we get for winning the race?
You will have the best time in your life, get a Zombie Mud Run Canada shirt, a medal for surviving or an infected medal, a complimentary beer/drink and admission to the Survivor After Party and entertainment.
Can I register and pick up my race materials before the event?
Yes, registration will be open the day before the run to prevent large lines for race day. Registration day will have separate lines for faster check-ins.
Is there parking?
Parking is available but is limited, please be green and car pool. There is street side parking around the grounds and a paid lot available near.
What do I wear?
Anything you want, you can wear costumes, matching team outfits or running wear. As long as your swimsuit area is covered up.