Description
VOLUNTEERS
Volunteers are critical and will have tons of fun at this zombie apocalypse event! Can you act or remain in character? We need you too!

There are many opportunities to be part of the Apocalypse. Event Day Volunteers have the opportunity to look, feel and act like a Zombie in one of the following job duties:
Racer and Zombie registration

Assist with handing out awards, and Zombie Bags

Parking

Course Safety Monitor's

Water Stations
In consideration for your BRAINS, you will receive:
Free parking

ZC custom volunteer T-Shirt

Zombie Food

Opportunity to participate in the "Thriller Dance Party"

Community Service Hours

Entry into the Best Zombie Costume Contest

Runner Registration for only $15 - Savings of $63
VOLUNTEER REGISTRATION
If you would like to volunteer for Zombie Charge, please register no later than 2 weeks prior to the event.
Check out the rules of Zombie Charge Click Here
If you have any questions, please don't hesistate to contact the event organizer.
Organizer of Zombie Charge Volunteer - CONNECTICUT - June 14, 2014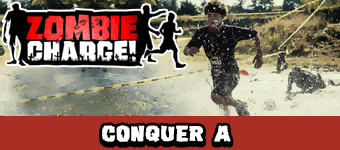 Zombie Charge is the most authentic 5k zombie mud run with obstacles, fields, muddy trenches, sandy dunes, creepy creeks, horror ridden hills, trails, mud and surprises coming back in 2019 with a 3 city race series planned for TX

DO YOU HAVE WHAT IT TAKES ???

For Info about the South Padre Island escape email spi@zombiecharge.com
For Austin TX Event email austintx@zombiecharge.com and for Houston TX experience reach us at info@zombiecharge.com   Zombie Charge likes to work with businesses that want to sponsor our event and support our charity involved and help us promote the mission "Be Fit, Be Prepared" reach out to us!