Description
ESCAPE THE ZOMBIE INFECTION IN NEW ENGLAND
Zombie Charge is the most authentic zombie-infested 5k mud run with obstacles, trails, mud, swamps and surprises coming back to Southern New England. As a runner you have to strategically run the course and survive by avoiding the zombies charging after you trying to steal your flags. As a zombie, you have to grab the oncoming runners flags. Either way, your heart will be racing! Do you have what it takes to survive the second infestation to hit Connecticut?

ABOUT THE RACE
Our New England Zombie Charge course is more than an off-road adventure race in wooded trails, corn fields, gravel yards and swamps. It's more than a race with 8-12 obstacles. It's about survival. It's about the apocalypse. It's about being fearless. It gets your heart racing like nothing else can. Like all our courses, this Zombie Charge is infested with zombies, full of obstacles and plenty of surprizes! Your mission is to navigate the course and make it to the safe zone with atleast one flag remaining. A response team is standing by armed with a zombie antidote known as "NECTAR" if you become infected. All you have to do is make there before its too late!
Alternatively, if you don't want to be a runner, you can participate as one of our zombies. Undergo the transformation from living to the living dead! Our professional makeup artists will morph you into one of the cannibal corpses that roam the course and plague the perimeters of the safe zone.
The world around you transforms from the time you park your car. You will be on a real life movie set where zombies are real and you will be trying to survive among the living. The story begins there. Will you end up a survivor or become one of the undead? After the race join your friends and family in the safe zone for plenty of live music, contests, food, beer, and all kinds of fun activities.
NOTE: You may register as a runner or a zombie here, to register as a volunteer click here. Any role you choose will be exciting!
Additional FAQS about Zombie Charge Click Here
Check out the rules of Zombie Charge Click Here
What to expect as a Runner Click Here
What to expect as a Zombie Click Here
Organizer of Zombie Charge - CONNECTICUT - June 14, 2014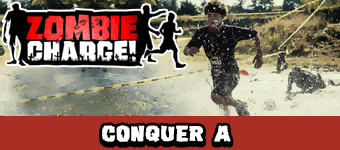 Zombie Charge is the most authentic 5k zombie mud run with obstacles, fields, muddy trenches, sandy dunes, creepy creeks, horror ridden hills, trails, mud and surprises coming back in 2019 with a 3 city race series planned for TX

DO YOU HAVE WHAT IT TAKES ???

For Info about the South Padre Island escape email spi@zombiecharge.com
For Austin TX Event email austintx@zombiecharge.com and for Houston TX experience reach us at info@zombiecharge.com   Zombie Charge likes to work with businesses that want to sponsor our event and support our charity involved and help us promote the mission "Be Fit, Be Prepared" reach out to us!