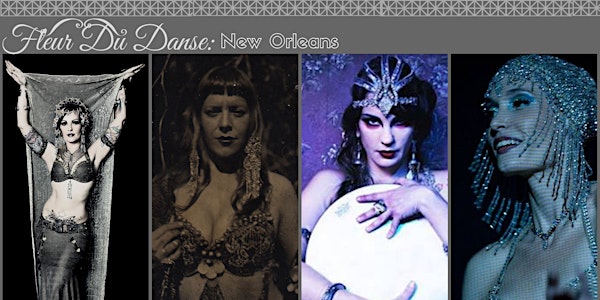 Zoe Jakes Presents: Fleur Du Danse Weekend
When and where
Location
New Orleans 2527 N. Claiborne New Orleans, LA 70117
Description
Zoe Jakes and DanceCraft Presents: Fleur Du Danse 2019

Workshops// Performances// Backyard Hafla// Epic Vending

Fleur Du Danse is a sweet lil' dance festival happening this Spring in New Orleans, featuring the teaching talents of Zoe Jakes, Kami Liddle, Mardi Love, Kimberly Larkspur, and Dance Craft Alumni: Pixie Fordtears & Faelan Shiva.

To celebrate the opening of Zoe Jakes' new home dance studio in New Orleans, we are breaking it in with a 3-day dance festival that will offer boutique sized workshps, performance opportunities, and access to specialized vending, all within a cozy and intimate atmosphere. We will be topping it off with a backyard style, Sunday Hafla.
>>>>>>>>>>>>>>>>>>>>>>>>>>>>>>>>>>>>>>>>>>>>>>>>>
We will have an array of carefully curated MERCHANTS such as:
Larkspur Designs, Black Lotus Clothing Foolproof Designs, Kami Liddlle, Mardi Love and Duane Barger

>>>>>>>>>>>>>>>>>>>>>>>>>>>>>>>>>>>>>>>>>>>>>>>>>
Registration opens Nov.1, 11am (Public). Oct.31, 11am (NOLA locals Only).
Any questions can be directed to fleurdudanse@gmail.com
.............................................................................................................

Fleur Du Danse 2019, New Orleans : Workshop Descriptions

Day 1: May 10th Friday
ZOES BOOK OF SHIMMIES with Zoe Jakes 9:30am-11:30 (2hrs)
Non-Stop Shimmies!!! Lets work on huge hips and loose shimmies. We are going to explore lots of different styles of shimmies, and new ways of doing them. So whether you are new to Belly Dance, or looking for something to add to your repertoire, this is the workshop for you. It's all here, 3/4 shimmies, 4/4 shimmies, sharp and smooth shimmies, travelling shimmies, layered shimmies, timed shimmies and non-timed shimmies…WHEW! So..lets dance!

CONTEMPORARY FUSION BELLY DANCE CHOREOGRAPHY with Kami Liddle 12:00-3 (3hrs)
Kami will share a new choreography that takes the sharp and isolated movements of belly dance and fuses it with the fluidity and expressiveness of contemporary dance. Dancers will begin with a warm up initiating movement with their breath and strength training to create heat and blood flow. Dancers will be given concepts to find their own artistic individuality while performing the choreography. A little improvisation here, a little movement phrase there, and with time to explore expression, musical interpretation and texture. Dance shoes are recommended.

TEK ATTACK!!! CLASS OF DUM with Mardi Love 3:30-5:30pm (2hrs)
Ha! Couldn't Help It. Oh where have the days of blue fingertips and bleeding eardrums gone? Mardi presents a pocketful of percussive sentences and movement to go with 'em.

GOING TO GREAT LEGNTHS with Kimberly Larkspur 6-8pm (2hr)
Are you itching to maximize your reach in a very literal way? Do you find that your dance happens primarily between your shoulders and hips, while those lovely arms and legs waste away in relative obscurity? Through a combination of exercises drawn from contemporary dance, creative movement experimentation, and good, old-fashioned flopping around like a bunch of nutcases, we'll work on finding out what goes on outside of the body column (and drill positions). The workshop comes complete with combinations you can take home in a doggy bag to snack on later. Suitable for all levels.

Day 2: May 11th Saturday

SLOWLY…NEW SENTENCES with Mardi Love 9:30am-11:30pm (2hrs)
Presenting a grouping of furling, rolling, sultry movements for the slow dances. Why, it's Mardi's favorite thing to do. Long and drawn, undulating and curving, movements will be drilled and executed in beautiful progression.

WAVE AND LOCK: BELLY DANCE FUNDAMENTALS with Zoe Jakes 12:00-3:00pm (3hrs)
Get to the root of bellydance with this focused class! Building blocks for pops and locks and
body waves will be covered. This workshop is suitable for the beginner up to advanced, as the concepts covered will deepen all levels of technique.

FANCY FEET: FOOTWORK PATTERNS & COMBINATIONS with Kami Liddle 3:30-5:30pm (2hrs)
Adding traveling steps in your belly dance repertoire can add so much variety and contrast and give you freedom to glide across the stage. After an in-depth warm-up to strengthen and stretch the feet and legs, footwork patterns and combinations will be broken down step-by-step. Various levels of isolations and arm patterns will be offered to challenge beginners to the advanced professional.

PERPETUAL MOTION with Pixie Fordtears 6-8pm (2hrs)
Motion that continues indefinitely without any external source of energy. With an emphasis on fluidity throughout the body, this workshop will help you connect movement using your breath, play with sharp hits including the momentum they cause, and work with intentional movement, in still moments. Building a small choreo with these movements will help show you how powerful they can be. You will take away something to bring into your own practice and choreography!

Day 3: May12th Sunday

KRYSALIS DANCE PHRASES- with Kami Liddle 9:30-11:30am (2hrs)
Kami will share some of her new combinations and movement phrases that she has created for her new dance program called Krysalis. Krysalis focuses on the style of Contemporary Fusion Belly Dance, which combines strong leg and footwork with fluidity in the spine and precision in the torso. It emphasizes strength and flexibility, rhythmic and musical phrasing, and most importantly, self-expression. These movement phrases are accessible to every dancer and provide freedom to explore your own personal style.

NEW CHOREOGRAPHY, MARDI'S CHOICE with Mardi Love 12:00-3:00pm (3hrs)
Just like it sounds, we're learning a new piece. Hooray! Movement will be presented in sentences, thoroughly broken down and drilled, while careful attention will be given to the hows and whys and the smaller details in the dance. Side note: When I teach a choreography class, it is my intention not to simply feed you a dance that you take home and repeat on your stage (though that's certainly one option), but that you 1. may pick up a few movements/sentences of movements/transitions that resonate with you, and 2. that you may gain some insight as to how I like to build a dance; that is how I see the music and illustrate it in movement.

FIRE IN THE BELLY, with Zoe Jakes 3:30-5:30pm (2hrs)
A choreography wrapped in undulations, spirals and diagonal extension. A choreography to wake up the spine. Undulations, flutters and diagonal extension all with the purpose of making transitions disappear. Fluid and sleek lines mix with the circular and infinite shapes of belly dance, with dynamic splashes along the way. Using breath and the negative space around us, we will be chasing movement through the entire body and back again. The technique behind Zoe's style of undulations and interior circles will be broken down for this workshop, as well a vigorous warm up to prepare for full body expansive movement

TECHNIQUE AND EXPRESSION, with Faelan 6-8pm (2hrs)
In this workshop Faelan conveys the importance of well developed and intelligent technique, then illustrates how to shape and bend it to tell a story, to sing your song, to dance YOU. You will walk away with some exquisitely expressive combos, but more importantly the inspiration of crafting the bridge between technique and expression in your own work.
.............................................................................................................
PRICING PACKAGES

Registration opens Nov.1, 2018
Early Bird Prices end Jan.1, 2019.

A LA CARTE:
$55- 2 hr
$70- 3 hr
(Before Jan.1)

$65- 2hr
$80- 3hr
(After Jan.1)

FULL DAY
$215 (Before Jan.1)
$255 (After Jan.1)

3-DAY PASS
$625 (Before Jan.1)
$745 (After Jan.1) Payment plan option of two payments split.

PAYMENT PLAN: There is a payment plan option for the 3-Day Pass with two payments of $375 if paid after Jan.1 (must be paid in full by March 1, 2019.)

LOCALS SPECIAL: Locals Discount! $5 off each 2hr workshop, $10 off each 3hr workshop, $15 off full day, $20 off 3-Day Pass. Must show proof you are a NOLA resident. ONLY 10 spots available for the discounted prices.

EARLY REGISTRATION ON OCT.31ST FOR LOCALS! Must show proof of residencey in New Orleans. Oct.31st, we are opening registration up to locals only (10 spots available)

REGISTRATION STARTS NOVEMBER 1ST @ 11AM (Central Time)

BOUTIQUE SIZED CLASSES: When we say "boutique", we mean it! There will be a maximum capacity of 30-35 students per workshop ONLY. So be sure to reserve your spot. This is a great chance to learn from your favorite teachers in a very intimate environment.

REFUNDS: No refunds will be given once payment has been made. However, you are always welcome to sell your spot to someone else or to check in with us to see if we have anyone on our waitlist that we can refer you to.

TIDBITS.....

GETTING THERE & PARKING: Being that the dance studio is in a residential neighborhood with very little parking, we strongly recommend that you get dropped off or take an Uber and do NOT plan to park or walk..

PLACES TO STAY: If you're coming in from out of town, we will be happy to direct you to places to stay nearby! We recommend the Marigny/Bywater neighborhoods or French Quarter, all being a quick ride away and filled with magical little spots to explore. There are plenty of sweet Hotels, Airbnbs, Bed & Breakfasts to choose from.

Please email us at fleurdudanse@gmail.com for any questions :)
............................................................................................................
Be sure to follow us on Instagram at: https://www.instagram.com/fleurdudanse/
.............................................................................................................