Description
Register now for our ZINES Workshop Series, presented by the
Accessible Arts Workshops, a project of Able ARTS Work.
The Accessible Arts Workshops (AAW) deliver standards-based,inclusive Visual Art and Music Education workshops to children in community spaces throughout Los Angeles and Orange Counties. The program provides age-appropriate Performance Standards in the areas of Artistic Perception;Creative Expression; Historical and Cultural Context; Aesthetic Valuing and Connections, Relationships and Application. Our curriculum is further enhanced with social emotional learning to foster a healthy sense of self and others.
We are an approved vendor of Inspire Charter Schools.
---
Zines Workshops (2nd - 6th grades)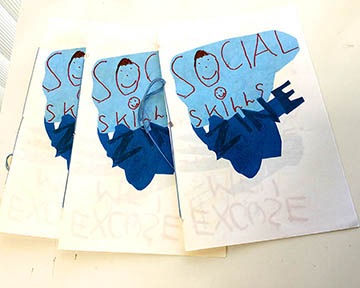 The Zines Workshop series offers students the opportunity to use zines as a medium to express individual identity and its relationship to a group. Using the visual arts and storytelling to encourage critical thinking and self-awareness, students will learn how to weave a narrative that represents the individual and collective contributions of each student by producing an edition of printed mini-magazines (zines). Paying homage to the socially driven medium of zine making, a community engagement component is included to encourage students to use everyday technology to produce a short film to compliment the printed zine. The film component will allow students an opportunity to share the multiple layers of their stories and will be an opportunity to put into action the communication skills they will learn through the making of the zine.
Weekly sessions: January 25 - May 24, 2019 held at The Assumption of the Blessed Virgin Mary Greek Orthodox Church. Room number will be shared upon registration.

*No classes February 22nd for Presidents' Week and April 19th for Spring Break
Workshop fees include all art supplies and 16, 1-hr weekly sessions
Contact us for information about other workshop offerings!