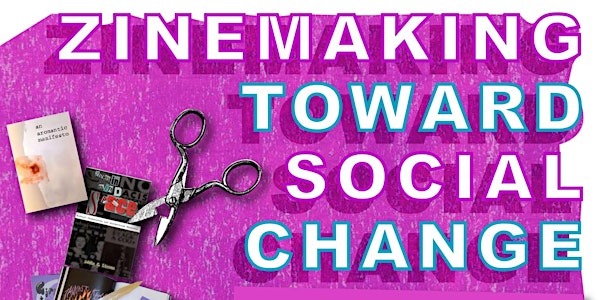 Zine-Making Toward Social Change (Zoom)
Join five zine scholars and creators as they talk about their artivism through zine making and publishing
About this event
Zines, as do-it-yourself (DIY) group or individual print publications that draw on visuals and text, have historically functioned as an inexpensive and hands-on method of creating and circulating materials. They have been especially utilized by BIPOC , feminist, and queer communities to challenge dominant ideas around gender, racism, and sexuality as well as the exclusivity of the publishing industry.
This online event brings together five zine scholars and creators to talk about their artivism through zine making and publishing.
1. Adela Licona (she/ella), Founder of the Art of Change Agency: "Entremundos"
2. Aleksandra Kamińska (she/her) and Agata Barbara Wnuk (she/her), cofounders of Girls* to the Front: "Girls and Queers to the Front!: Building Resistance One Zine at a Time"
3. Yingchen Kwok (she/her) and Ying Tong, creators of an aromantic manifesto: "The Aromantic Conception and Afterlife of a Zine-Manifesto"
This event will take place on Zoom (link will be provided after registration) and will be recorded. Funding has been provided by the ISU Fell Grant and Sage Fund.