Event Information
Location
Private spot in Mission Valley
exact spot TBA, will email all participants
San Diego, CA 92108
Description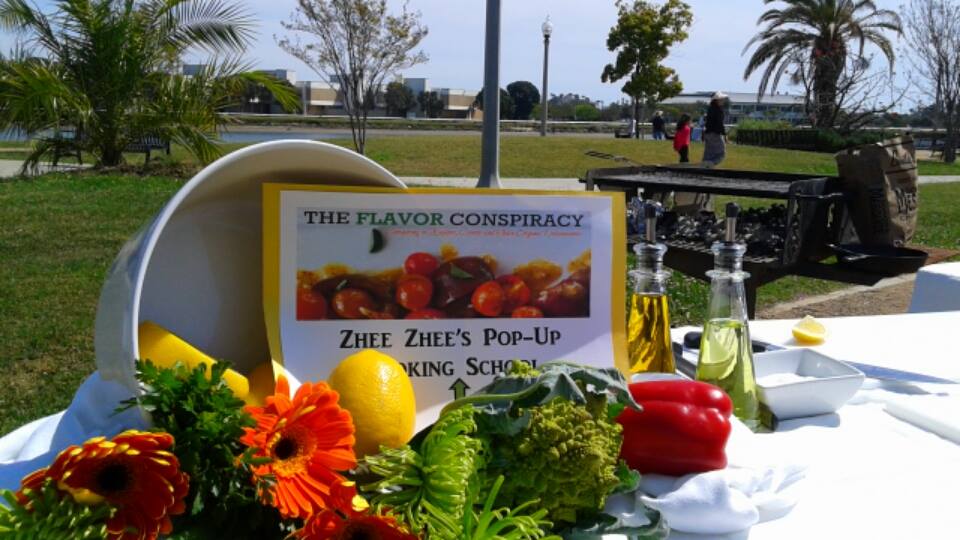 I couldn't think of a more delicious way to appreciate our blessed SoCal environment, than to pack up my cooking gear, grab some fresh ingredients and create cooking demos around town…... I call it Zhee Zhee's Pop-Up Cooking School . You bring your appetite, I make the handcrafted food (a four course meal), prepared with laughter and love!
*My pop-up classes are usually outdoors during the day, but with the weather being so hot I decided to make it a dinner affair, with a/c.*
Here's how it works:
Your payment is your RSVP. $50 per person can be paid directly through this "eventbrite" page for a small fee. Or if you prefer, you can use PayPal, using theflavorconspiracy@cox.net as the recipient.

For those folks that grow organic fruits and vegetables at home, you can receive a $5 discount, by bringing a pound of your harvest (please no okra). All you have to do is email or facebook message me letting me know what you will be bringing and I will incorporate it in the menu (or create a quick extra somethin somethin with it). Your class fee will go down to $45. **one discount per person**

On the day of class you show up with an empty stomach, a love for food, plus the desire to learn and share in an unconventional classroom. You might actually do a little hands-on participation, too.

Each participant will: receive a recipe packet, experience a demo-style cooking class, and chow down on a delicious, communal style four-course meal—prepared right in front of the class. *Most of my menu is gluten free, with the acception of some artisan bread in the beginning. I will be including a little seafood and some free-range chicken, so it is not vegetarian. I do love me some cheese, but as long as you let me know in advance I can always eliminate the cheese on your plate. Let me know if you have any major allergies-but if you are allergic to onions and garlic this might not be the event for you.

I will also provide some type of preliminary snacky while you watch the demo (so it is really five courses, instead of four), and one of my agua fresca elixirs (peeps can bring whatever else they wish to embibe).
Date and Time
Location
Private spot in Mission Valley
exact spot TBA, will email all participants
San Diego, CA 92108