Zest For Learning - Book Launch with Professor Bill Lucas and Dr Ellen Spen...
Description
Come and join us for the launch of Zest for Learning a new book written by Prof Bill Lucas and Dr Ellen Spencer
17.45 - Complimentary drinks, networking and book-signing

18.30 - Zest for Learning: developing curious learners, who relish real-world challenges. Bill Lucas, Ellen Spencer and two case study examples - Sailing and Explorer Scouts

19.30 - Further networking and book-signing
Signed copies of the book will be available at a special discounted price
The third book in the Pedagogy for a Changing World series, Zest for Learning examines how schools can enrich their pupils' learning both within and beyond school. It explores the ways in which teachers can fuel their pupils' curiosity and help them to find their passions, develop their independence, and challenge themselves to become more expansive learners.This can be encouraged by greater engagement with sports and the arts, by collaborating with external bodies such as the Scouts and Guides, or the Duke of Edinburgh's Award scheme, or with libraries, museums, faith groups and environmental organisations.
Zest for Learning connects the co-curriculum with the formal curriculum, building both theoretical and practical confidence in the kinds of pedagogies which work well. The book is packed with practical ideas for getting pupils to love learning so much that they will be able to learn whatever they want to throughout their lives.
We are grateful to the Royal Yachting Association for sponsoring this launch.
Bill Lucas
Professor Bill Lucas is Director of the Centre for Real-World Learning at the University of Winchester. With Guy Claxton he created the Expansive Education Network: an organisation of schools that share common view of goals of education. These goals are outlined in their seminal book, Educating Ruby: what our children really need to learn. Bill is also co-chair of the new 2021 PISA test of creative thinking, a member of the LEGO foundation's advisory board and an adviser to the Church of England.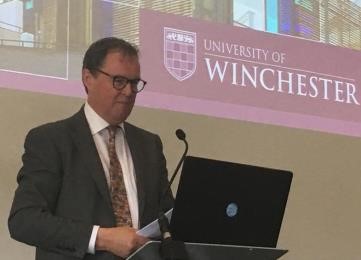 Ellen Spencer
Dr Ellen Spencer is a senior researcher of the Centre for Real-World Learning at the University of Winchester. With Bill, Ellen is co-author of Expansive Education, Teaching Creative Thinking and Developing Tenacity.