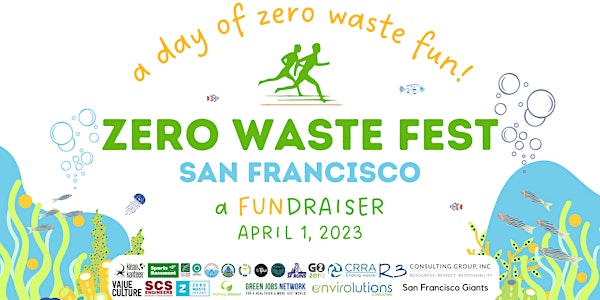 Zero Waste Fest: Cup-Free 5K Fun Run + Resource Fair
Zero Waste Fest A cup-free run to benefit Race to Zero Waste! The event will include a resource fair, clothing swap, and Yoga.
Date and time
Sat, Apr 1, 2023 8:30 AM - 2:00 PM PDT
Location
Crissy Field East Beach - Sports Basement 610 Old Mason St San Francisco, CA 94129
About this event
5 hours 30 minutes

Mobile eTicket
Zero Waste Fest - A benefit for Race to Zero Waste ⁠
Join others as they lace up their shoes and run for zero waste at our annual cup-free fun run in San Francisco! All proceeds will go towards building out Zero Waste Pop-up kits for community cleanups. Thanks to our wonderful partners and sponsors City Surf Project Surfrider, Foundation, Simple Refillable, Sea Hugger, Go2Zero Strategies, R3 Consulting, Guayaki Yerba Matte, San Francisco Environment Department, California Resource Recovery Association, Zero Waste Sonoma, Envirolutions Consulting, SCS Engineers, SF Runs, Rotation Community Services, Northern California Recycling Association, Sports Basement, Rainbow Grocery, Green Jobs Network, and Klean Kanteen for sponsoring ⁠zero waste activities and information booths!
Zero Waste Fest Activities:
7:30-8:15am - Registration Opens + Running Shoe Donation Drive @ The Zero Waste Station
8:00 - 8:15 am Yoga Warm-up / Light Stretching
8:15 - 8:30 pm Ramaytush Ohlone Land Acknowledgement & Race Kickoff - Jessica Narvios from SFE (State of Zero Waste update) & Eco Superhero - Resilience
8:30 am - 9:30am - 5K Fun Run/1 Mile Walk @ Crissy Field Promenade (across from Sports Basement)⁠
9:30 - 10:30 am Yoga, Coffee, Guayaki Yerba Matte, Kleen Kanteen, Post Race Food, Mingling, and Music
Resource Fair Day of Action at The Dairy, Sports Basement Presidio
10:30am - 2:00pm
Resource Fair Education Booths & Program
Race to Zero Waste, Sports Basement, Sea Hugger, City Surf Project, San Francisco Environment Department, Simple Refillable, Rotation Community Services, Yoga Kaivalya, Azeco Design, Eco Superhero- Resilience, Rainbow Grocery, Zero Waste Youth, Surfrider Foundation, Zero Waste Sonoma, Guayaki Yerba Mate, ReusableSF, and Stainable Ink
-Used running shoe donation drive by Race to Zero Waste from 10:30 - 2:00 pm
-Clothing Swap by Aguida Zanol of Azeco Design from 10:30 - 2:00 pm
-Wetsuit Repair Demo by City Surf Project @ 11:00 am & 1:00 pm
-Learn about plastic-free lifestyle alternatives with Sea Hugger from 10:30-2:00 pm
-Upcycled t-shirt screen-printing with Stainable Ink from 10:30 - 2:00 pm
-Sprint Toward Zero Waste Leadership Award Ceremony @12:00 pm
What you get when you register:
Thanks to our generous partners and sponsors, everyone that purchases a race ticket will receive:
R20W branded Klean Kanteen 10-ounce cup, Guayaki Yerba Matte, coffee, Yoga, light breakfast, plus access to the Zero Waste Resource Fair at The Dairy in Sports Basement!
Race and Timing Information
Race to Zero Waste will not be keeping runners' time. For this event, we are encouraging runners to dress up and have fun! As part of our efforts to reduce waste, no bibs or timing chips will be offered. For those who are interested in timing their 5k run, please use your preferred running apps or smart watches to track your time yourself. We will absolutely celebrate with you when you cross the finish line!
Location and Transport Information
Zero Waste Fest will take place at Crissy Field and Sports Basement in San Francisco, CA. The Cup-Free 5k Run/1 Mile Walk will start at the Zero Waste Station at the trail in front of Sports Basement across Mason Street. The Resource Fair will take place at The Dairy, the community space inside Sports Basement.
We would love for you to use sustainable modes of transport to get to our events! Bus line 30 stops at the Sports Basement parking lot. Line 43 stops nearby at Halleck St/Army Headquarters. Bike racks are available in front of Sports Basement. Car parking is available at the Crissy Field East Beach Parking Lot, NOT AT SPORTS BASEMENT.
Race to Zero Waste is a woman-founded and -run California-based 501(c)3 environmental non-profit that is dedicated to reducing consumption, implementing reuse, and promoting an equitable circular economy. Race to Zero Waste's mission is to support communities, businesses, and governments in the training, education, and policy work needed to move toward a just and equitable circular economy through community education and outreach. Race to Zero Waste seeks to foster community empowerment, leadership, and job creation in the world of zero waste. Race to Zero Waste is an affiliate of the Zero Waste International Alliance (ZWIA) and follows the organization's peer reviewed definition of zero waste.