Description
Discover my 3-step process for using HARO to get massive media coverage in places like HuffPo, CNN, and Oprah.com — without spending a cent on PR!
Imagine how you would feel if you woke up, turned on your phone, and saw the following:
A Twitter alert that Arianna Huffington shared an article you're quoted in with her 2,700,000 million followers.

A notification that your advice is in the #1 trending article on Yahoo Health.

An email from a producer at a national TV station with asking you to be on their primetime morning show.
You might think that only the latest political scandal or celebrity gossip can get this kind of media attention. But if you can hold back your skepticism for a minute, I'll share how you too can get this type of press coverage as a therapist or coach.
And even better, you can do it without spending a cent on hiring a PR person or agency!
How do I know?
Because I did it myself — and the three bullets at the top of the page are all results that I've been able to generate for my practice!
Over the past five years, I've grown my business from scratch all by myself — no marketing team, no virtual assistant, no fancy software. (And I wasn't born with rich parents or insider connections to the media, either.)
Instead, I developed a repeatable system that any coach or therapist can use to get massive media coverage,using a free tool called Help A Reporter Out (HARO for short).
In the first 12 months after launching my practice, I went from zero media presence to being featured in major publications including New York Magazine, Fast Company, Forbes, Shape, Cosmopolitan, Glamour, Mashable, The Huffington Post and many more.
I was also able to land a TEDx talk based on my press coverage.
Today 90% of my email subscribers and clients come through the PR and press I get. Clients tell me they read my advice in an article and it's like a taste of working with me, so they instantly reach out.
Because I've seen the power of HARO to transform my own practice, for the first time ever I'm peeling back the curtain and teaching the system I use to get major media coverage in just 20 minutes per day. (that's probably less time than you spend in the shower)
HOW TO HACK HARO AND GET MAJOR MEDIA ATTENTION FOR FREE
Before I go into my system for how to get the most out of HARO in the least amount of effort, here's a quick breakdown of how HARO works in case you're not familiar.
When you sign up for HARO, you get three emails every weekday. Each one has a HUGE list of requests (called "queries") from reporters and bloggers looking for experts just like you who can share their advice.
If you spot a query that fits your expertise, you simply email the reporter. Then you may be quoted in an article or be interviewed on radio or TV.
Sounds easy, right? What's not to love?
Well, first of all, sorting through the three emails HARO sends each day can be a daunting task in itself. You may feel overwhelmed or have no idea how to determine "good" queries from ones that aren't worth your time.
On top of that, journalists receive thousands of responses each day, so getting your advice selected for an article can be harder (a LOT harder) than it seems at first.
So how can you stand out from the thousands of pitches reporters get every day? How can you use HARO to not only to get quoted in dream publications, but also to leverage it and attract your ideal clients?
In this premium 90-minute training you'll get the exact process, templates, and scripts that have worked for me to:
Consistently fill my roster with dream clients

Get paid speaking opportunities

Attract multiple offers from book publishers

Write my own columns at Inc., Forbes, PsychCentral, and more
You might be wondering why I am finally sharing this system publicly. It's because I believe the world needs what you have to offer. Now more than ever we need powerful, caring, knowledgeable voices sharing sound advice for how we can all live better, happier lives.
Because I feel strongly that every therapist, coach, or healer has a message worth spreading, I'm finally sharing my tools and tricks with the community.
What you'll know after ZERO TO HARO
In this 90-minute premium online training you will discover:
The in's and out's of using HARO to market and grow your practice
My formula for spotting high-quality opportunities, so you can get huge PR wins in less than 20 minutes per day.

How to craft subject lines that practically guarantee reporters will open your pitches
The exact email templates I've used to get coverage (and clients) for my practice in major magazines like Women's Health, Cosmopolitan, ELLE, Forbes, Fast Company and dozens more.

A step-by-step follow-up strategy to get reporters coming back to you for their stories over and over — so that eventually you'll get so many inbound requests you can put your PR on auto-pilot!
Of course you have other options if you want to get more press mentions for your practice (and the clients and prestige that comes with them). You could hire a PR firm, which often will cost $10,000 or more per month. Even hiring a PR freelancer will likely cost you a few grand, and then you still have to spend time managing them.
Or you could invest just $45 and attend the 90-minute ZERO TO HARO premium training to learn how to get huge media wins all by yourself in just 20 minutes per day. It's up to you, but think about it. If you can get even one new client from increasing your media attention, you'd probably make back 10 times what you spent on this training.
Now to be clear, this is the first time I'm publicly revealing my entire HARO system, and I don't know when I will be doing it again — if I ever do. As of now, this is your only definitive chance to learn the systems I've used to get featured on major media while spending just 20 minutes per day at most.
And if I do decide to offer this training again, it will absolutely require a much bigger investment. I wanted to make the first training more affordable as a way to reward people for taking action now instead of waiting for "someday."
So if you're ready to see your name on places like Prevention, WebMD, Psychology Today, Real Simple, and more...
If you want to grow your reputation, your practice, and your income…
And you want to do it all for less than a few cups of coffee and in under 20 minutes per day, register now.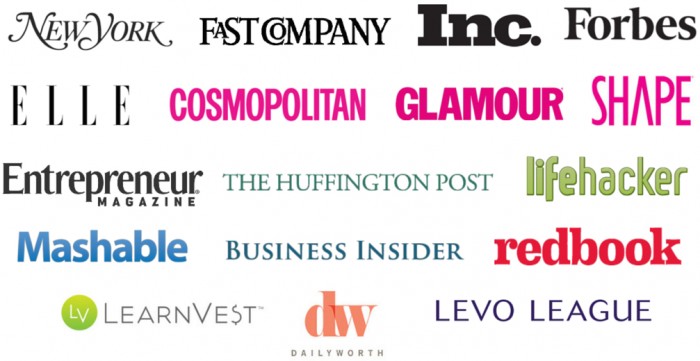 -----------------------

FAQs
What if I can't make the live webinar time?
No worries! The entire event will be recorded and sent out afterwards.
What is the refund policy?

There are no refunds for this event.
How can I contact the organizer with any questions?
Please visit http://melodywilding.com/contact/

Save
Save
Save