Event Information
Refund Policy
Refunds up to 30 days before event
Description
Zero to Deep Learning Bootcamp
A 5-day full-time training that brings you from Zero to Deep Learning® with Keras and Tensorflow .

Why Zero to Deep Learning?
If you need to learn the foundations of Machine Learning and Deep Learning comprehensively and quickly, our 5-day Bootcamp is for you. It balances breadth and depth, and delivers you an immersive full-time introduction to cutting-edge ML and DL techniques using Python, Keras and Tensorflow.

Who Should Attend?
Software Engineers, Software Engineering Managers, and Data Analysts seeking to upskill in Machine Learning & Deep Learning.
Confirmed participants are from AirBnB, GE Digital, VMWare, Splunk, Change Healthcare plus several others.
WHEN: Mon – Fri, 5-9 November 2018
WHERE: San Jose. Venue to be announced.
WHO: Software engineers, engineering managers and data analysts
PRICE: $3,800
5 full days of Knowledge and Skill
You'll get versed in Data Visualization, Machine Learning, and Deep Learning. These are the elements that come together to make driverless cars, to recognize faces, to market products, and to drive big decisions from big data.

You will Build
A language detector
An image recognition engine
A sentiment classifier that can decipher the tone of text
A spam detector that can triage sms messages
A forecasting algorithm that predicts future energy consumption
A deployed API that predicts phone location from wifi signal
A final project of your own
And more …
Final Project
Apply what you have learnt immediately
Collaborate with a team
Build an application end-to-end
Show off your results
Immediately bring back value to your organization
In the past people have built:
An algorithm to forecast the price of Bitcoin
A mobile application to recognize objects
A web application to detect toxic language in comments
And more …
The most up to date curriculum with best practice teaching
The curriculum is specifically crafted to make Deep Learning accessible to a broad range of students and professionals. The bootcamp is fully immersive – you will be hands on throughout. Classes are a mix of lectures, practical exercises, Q and A, supported by teaching assistants to make sure each person is progressing throughout the bootcamp.
Meet your lead Instructor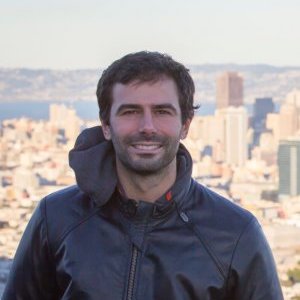 Francesco Mosconi is at the cutting edge of Machine Learning and Deep Learning. He specifically excels in teaching it to people like you. He is the author of the book 'Zero to Deep Learning'.
Francesco works with Fortune 500 companies and startups, building capabilities in data science, assisting them harness the power of machine learning and deep learning to achieve their goals. The overwhelming feedback we receive is how effectively Francesco teaches the complexities of ML and DL in an understandable way – and that's why we're doing ZTDL Bootcamp!
He's got the credentials too – he previously served as lead Data Science instructor at General Assembly and The Data Incubator. He was Chief Data Officer and co-founder at Spire, a YCombinator- backed startup that invented the first consumer wearable device capable of continuously tracking respiration and activity. He earned a joint PhD in biophysics at University of Padua and Université de Paris VI and is also a graduate of Singularity University summer program of 2011.
"Francesco is very talented and his class dynamic is most welcoming. I highly recommend the course!" Gary, Sony
"Some of the best instruction I have ever received" Andrew, Import.io
"Believe it or not, at the end I had many tools to solve real problems!" Emanuel, Twitter
"Incredible instruction from the teacher" Stella
What makes Zero to Deep Learning different from other courses?
We focus on Machine Learning, Deep Learning and neural networks with Python.
We balance breadth and depth. By the end you will know enough of the foundations of ML and DL to bypass the painful part of approaching a new subject, and take your learning curve from months to days.
It's 5 days, and immersive. There are many 1-2 day courses available, but generally we think these are too short. We also know the appeal of part-time courses – you can complete them while working full-time. We have however seen that participants often don't make the time and mental space to learn, and get less value from the courses. We believe immersive is best, and 5 days is the sweet spot between time out of the office, and learning powerful content to with a very positive return on investment
Our courses are self-contained, hands-on and interactive.

Curriculum
Machine Learning with Scikit-Learn
Recognize where to use Machine Learning
Select the most appropriate technique
Load & manipulate data with Pandas
Visualize and explore data with Matplotlib & Seaborn
Build regression, classification and clustering models with Scikit-Learn
Evaluate model performance with Scikit-Learn
Build, train and serve a predictive model using Python, Flask and Heroku
Deep Learning with Keras
Dive into fundamentals of deep learning
Understand why deep learning is so popular
Develop Fully Connected, Convolutional and Recurrent Neural Networks
Speed up performance using cloud GPUs
Build object recognition models for Image Classification
Build NLP application for Sentiment Classification and Language Modeling
Understand Embeddings once and for all
Piggyback on the shoulders of giants with Transfer Learning
Forecast Time series and predict the future
Scaling with Tensorflow
Discover why Tensorflow became the no. 1 deep learning framework
Debug your models with eager execution
Dive into the Estimator API and build custom estimators
Scale up to large Datasets with the Data API
Debug your models with Eager Execution
Learn all about the Tensorflow graph, session and variables
Use Tensorboard to visualize training progress and model performance
Deploy your models to production with Tensorflow Serving
Expert advice
Zero to Deep Learning Bootcamp is right for you if you:
Want the best available introduction to Machine Learning and Deep Learning
Need to upskill – fast!
Want a solid overview of ML and DL techniques
Work in a company where ML and DL is becoming increasingly important (most companies)
Are working in a project, or have an upcoming project which requires ML and DL skills
Are a manager and need a robust understanding of ML and DL to manage your team
Want to upskill to access new employment opportunities or promotions
Are considering taking an advanced Computer Science degree and want an overview of Machine Learning and Deep Learning to help decide where to focus
We also have many data analysts attend to upskill in Machine Learning and Deep Learning.
Our participants come from top tier Silicon Valley companies, as well as start-ups. We regularly conduct in house training at the top tech companies in the world, and our teaching is best in class.
ZTDL bootcamp is proudly brought to you by Catalit

We are a Data Science consultancy doing what we love: helping companies and individuals acquire skills and knowledge in the field of data science and harness the power of machine and deep learning to reach their goals.


Date and Time
Location
Refund Policy
Refunds up to 30 days before event