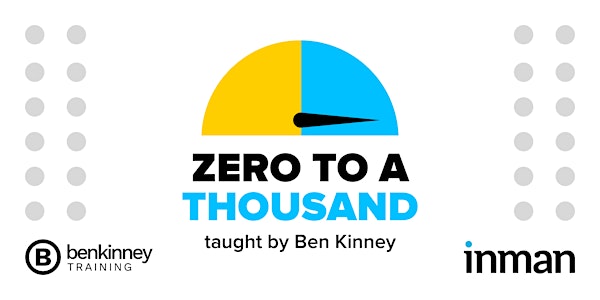 Zero to a Thousand @ Inman Connect San Francisco (taught by Ben Kinney)
When and where
Location
Hilton San Francisco Union Square 333 O'Farrell Street San Francisco, CA 94102
Description
Inman and Ben Kinney Training are proud to present "Zero to a Thousand" - an event crafted for agents at all production levels that would like learn to move from having a job to owning a business. Learn how to generate the leads, listings, and leverage that an agent would need to build a profitable real estate team or business.
Join us on Monday, July 16th, for Zero to a Thousand: a "How to Build and Grow Your Real Estate Business" hands-on intensive training taught live by Ben Kinney.
Kinney currently runs and manages one of the largest real estate teams in North America. His agents closed 2,000 transactions in the last 12 months across 17 major cities. On the Monday before Inman Connect San Francisco, he's coming to San Francisco to show agents how they can close more deals, build better teams, and get more out of their real estate businesses.
This event is perfect for individual agents, team owners, operations and administrative staff, buyer and listing agents, and brokerages at any point in their business who want to attract and retain more team members.
AGENDA
8:00-9:00 - Registration
9:00 - 9:30 - Intro with Brad Inman and Ben Kinney on the future of real estate and the impact of real estate teams.
9:30 - 12:00 - PART I (STEPS 1-4)
Step 1: Business planning, goal setting, and thinking bigger. Leave with your own simple-to-follow written business plan.
Step 2: Business fundamentals. Create your own mission, vision, values and culture that will attract talent and leads to your real estate business.
Step 3: Buyer lead generation. Find the leads and the systems that will feed your business in any market or price point. Figure out where your business will come from and leave with proven buyer lead generation plan that match your business.
Step 4: Seller lead generation. Listing are the inventory of the real estate store. If you control the inventory, you control the market. Learn how to get listings in any market and how to convert those leads and close on those appointments.
12:00 - 1:15 Lunch Break
1:15 - 5:00 - PART II (STEPS 5-10)
Step 5: Build your administrative team and systems. You need enough leverage in business to free up time to build the business and sell more volume. When and who to hire, what to have them do, and how to compensate them.
Step 6: Build your sales team. Showing agents, buyers agents, listing agents, and inside sales agents. Who to hire, when to hire, how to pay them, and what they should do every day.
Step 7: The boring stuff. Systems, technology, team contracts, team expectations, accountability, and financials that each individually are worth the full price of admission.
Step 8: Leadership. How to hire, retain, and grow leadership starting with you first and then your people. Where to find talent, what does talent look like, and how to succeed through people.
Step 9: Expansion and opportunities. How to leverage an existing business to build new businesses and how to expand what you have built into neighboring cities, counties, states, and countries.
Step 10: Work-life balance, wealth-building, and legacy. Why is this worth it? Why your family will thank you for this. How to put it all together to build a life by design.
Closing Thoughts and Take Aways with Brad Inman and Ben.
5:00 - 6:00 - Meet and greet, networking and mastermind.
This event has a 100% money-back guarantee. If you are not satisfied and fired up by lunch, you can leave and get a full refund.
Warning: This is not a normal conference. This is a full-day training event complete with a manual, tangible takeaways, and real-life applications and examples. This class is for agents who want to build a team, already have one but want to do it better, and for those who have dreamed of building and thinking bigger. You will laugh, you will probably cry, and you will never have had a full day class go by so quickly and leave so fulfilled.
VIP Includes: Early access to venue, preferred seating, Zero to a Thousand swag, and 3 months of group coaching calls and Q & A with Ben Kinney.
---
FAQs
Cancellation Policy
Inman issues no refunds under any circumstances. Any and all payments made to Inman are not refundable for any reason, including, but not limited to, illness, acts of God, travel-related problems, acts of terrorism, loss of employment and/or duplicate purchases.
If you cancel your registration more than 5 weeks prior to the conference, you may transfer your registration to the next Inman Connect event for a $150 administrative fee.
Transfer Policy
You may transfer your conference registration to another individual for the same event you are registered for by notifying us in writing at customerservice@inman.com. All substitution requests will be processed within two business days. Attendee substitutions on or after the start of the event will require a $150 fee.
Force Majeure
If events beyond the reasonable control of the parties, including, but not limited to, acts of God, war in the United States, strikes, terrorist attacks in the city where the event is being held, or curtailment of transportation either in the event city or in the countries/states of origin of the attendees, which prevents at least 40% of the attendees from arriving for the event, so that it is impracticable, illegal, or impossible to hold the conference, Inman may cancel the event and offer attendees a credit for a future Inman conference in the amount of the paid registration fee.