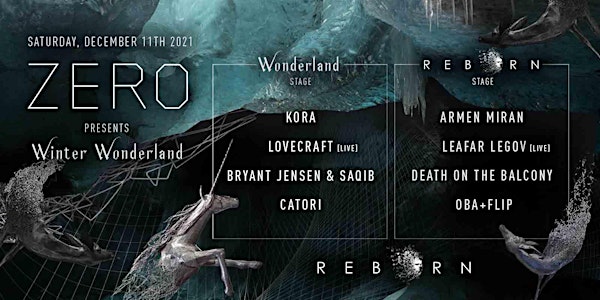 Zero presents Winter Wonderland
Performers
Armen Miran, Leafar Legov, Kora, Death On The Balcony
Location
Knockdown Center
52-19 Flushing Ave
Queens, NY 11378
Welcome to ZERO's Winter Wonderland
About this event
❄️ 2 Stages ❄️
❄️ Original Large-Scale Art-work ❄️
❄️ Winter Market Vendors ❄️
❄️ Performances & Surprises ❄️
❄️ Cozy Chill Out Nooks ❄️
❄️ ZERO Vibes ❄️
❄️❄️❄️❄️❄️ ❄️❄️❄️❄️❄️ ❄️❄️❄️❄️❄️ ❄️❄️❄️❄️❄️ ❄️❄️❄️❄️❄️ ❄️❄️❄️❄️❄️ ❄️❄️❄️❄️
THE MUSICAL JOURNEY Encompasses 2 stages:
The Wonderland Stage and the Reborn Stage
❄️❄️❄️❄️❄️
THE WINTER MARKET... will host multiple local and international vendors featuring hand-crafted artworks, jewelry, fashion and holiday gift ideas. Please support your local artisans and check-off your holiday gift shopping!
❄️❄️❄️❄️❄️
ARTISTS SPOTLIGHT: (A-Z)
this all-star cast of incredible artists from all corners of the snowglobe will be creating a world of deep, warm vibes, magnetic, passionate energy and glowing connectivity. Be prepared for an experience, whether through the Wonderland Stage or in the thickest zone of the Reborn stage, there are adventures to be had, stories to be told and memories to be created that will last a lifetime.
❄️ KORA ❄️
(Montreal x Saison)
FB: https://www.facebook.com/koramusique/
SC: https://soundcloud.com/kora-musique
Spotify: https://open.spotify.com/artist/3ZxaYY2eYNWxg8v1s2k6JD
Kora is an artist project blending diverse sounds and stimulating textures, a place where organic elements and modern means collide. It is home to a traveler on a lengthy voyage - an expedition to inspire and connect with room for one more. One of the most brilliant live acts, one of the most textured and insightful Djs, one of the most fundamental of artists and true musical visionary, Kora is the voice of his generation and any chance to experience his music will leave you spellbound and reflecting for weeks if not months or years. He's super good. We love Kora.
❄️ ARMEN MIRAN ❄️
(Los Angeles x Hoomidas x Reborn)
FB: https://www.facebook.com/ArmenMiranOfficial/
SC: https://soundcloud.com/armenmiran
Spotify: https://open.spotify.com/artist/4qxDuHrnTYQkihZiJYLWdy
Revered for his ability to whisk up dance-floor frenzies with a unique concoction of ambient deep house and Armenian folktronica, Armen Miran draws upon a number of worldly influences to inform his own sound.
To state that Armen Miran is a super talent in the studio and a fire-bringer behind the decks is to state the obvious. Be ready for prime-time Armen Miran vibes.
Need proof? Just listen:
https://soundcloud.com/armenmiran/armen-miran-the-cloud-burning-man-2019
❄️ BRYANT JENSEN b2b SAQIB ❄️
(New York x Abracadabra, Bespoke)
!EP Release Party Alert!
!!! These fine artists are celebrating their EP on Blond:ish's Abracabrabra Label !!!
If that doesn't make you toasty, we don't know what will...
FB: https://www.facebook.com/Iam.bjensen/
SC: https://soundcloud.com/bryantjensen
SC: https://soundcloud.com/saqibmalik
ZERO resident artist and builder, a creator of worlds and vibes, Bryant Jensen's creative expressions took a beautiful leap once he partnered with the producer extraordinaire Saqib, who is alented selector behind the decks and genius in the studio . Their recent voyage into the world of music has seen rapid success as their instincts as creators gave them a super-powered ability to rain down magical musical vibes. Bryant's & Saqib is starting to make waves in New York & beyond with a string of high quality EPs and releases coming our way, including a new EP on Blond:ish's Abracadabra label. Fire.
❄️ CATORI ❄️
(New York x Bespoke)
FB: https://www.facebook.com/Catori-105334686944829
SC: https://soundcloud.com/catorimusica
Brooklyn based Catori works with sound both electronically and acoustically. Her style ranges from organic tribal house to ambient meditation soundscapes. With childhood influences ranging from Latin to reggae and onward to her classical training in voice and violin, she draws inspiration from her rich cultural upbringing and international exploration.
❄️ DANIEL COWEL ❄️
(New York x ZERO)
FB: https://www.facebook.com/dcowel/
SC: https://soundcloud.com/danielcowel
A true perfectionist, Daniel has traveled the world in search of the deepest roots of music and matched his geographical education with a deep study of the nature of the art, which is reflected in the breadth and integrity of his sets.
An extremely humble and gracious human being, Daniel Cowel has built an international name for himself with his ZERO residency opening sets, carefully warming rooms and crafting slow boiling vibes, each set individually handled with delicate care and respect for whoever comes next.
When his moments to shine arrive, Daniel Cowel delivers, giving us some incredible memories. We are eagerly awaiting the world to catch on to this next-level artist and future superstar.
❄️ Death on the Balcony ❄️
(London x All Day I Dream x Reborn x Hoomidas)
INSTA: https://www.instagram.com/deathonthebalconySC: https://soundcloud.com/deathonthebalcony
Years of dedicated musical passion and an appreciation of numerous genres have lead to their sound receiving popularity across the board... Death on the Balcony's release schedule is continually active with them releasing & remixing internationally with the likes of All Day I Dream, Hoomidas, Reborn.
❄️ Leafar Legov ❄️
(Berlin x Giegling)
SC: https://soundcloud.com/leafarlegov
Leafar Legov is a quiet but essential member of the Giegling family. He and Konstantin were making music together in Hannover before the label formed—today, Leafar is a live act and production outfit whose bittersweet sound embodies Giegling's ineffable ethos.
A secretive and mysterious master of music. He operates on another plane of existence. Join him in perfection.
❄️ LOVECRAFT (LIVE!)❄️
(New York x ZERO)
FB: https://www.facebook.com/lovecraftofficial/
SC: https://soundcloud.com/lovecraftofficial
A vision of the future? Is it utopia? It is the light, the dark, the sensuous, the excited the moments around us, the sunrise, the sunset, dawn and midnight, Lovecraft's music and original productions are imagination itself.
Lovecraft remix on the ZERO label hit in the Beatport top 10 and he has a some huge EPs coming in early 2022.
Lovecraft has been one of the fastest rising artists in New York with his new live set, having played the Grand Return opening for Mira, opening for Bedouin and headlining the Mezcal Amores Dia De Los Muertos.
❄️OBA+FLIP ❄️
(New York x Reborn)
INSTA: https://www.instragram.com/oba.flip
SC: https://soundcloud.com/idris-ademola
Providing hard driving vibrational sounds with groovy mystical elements that fu*k with the mind while playing with the heart.
❄️❄️❄️❄️❄️
FASHION INSPIRATION: Reinder, Snowman, Snowflake, Old Man winter, Sexy Elf, Jolly Santa Claus, Sparkling Northern Lights,
Colors: Blue, White, Gray
Yes! There will be face painting, glitter teams & the ability to transform yourself in a Wonderland.
~ Remember ~ participation is the key to happiness ~
❄️❄️❄️❄️❄️
PLEASE FOLLOW US ON
❄️ SOUNDCLOUD ::: https://soundcloud.com/zeroparty
❄️ INSTAGRAM ::: https://www.instagram.com/zero_community/
❤️ ZERO
❑ Doors at 10pm
❑ 21+
▁ ▁ ▁ ▁ ▁ ▁ ▁ ▁ ▁ ▁ ▁ ▁ ▁
Proof of Vaccination Required
New York City law requires all attendees of indoor events to present proof of at least one dose of a WHO approved COVID-19 vaccine. Approved methods of providing vaccination proof per New York City guidance include New York State's Excelsior Pass app, New York City's COVID Safe app, or a CDC paper vaccination card. By New York City law, proof of a negative COVID-19 test result is not accepted as a method of entry.