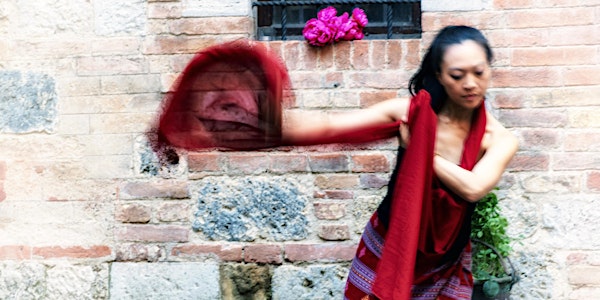 ZERO GRASSES: Concert by Vocalist/Multi-Instrumentalist/Composer Jen Shyu
Description
CRS (Center for Remembering & Sharing) presents CROSSING BOUNDARIES Concert Series Vol. 11: ZERO GRASSES, curated, created and performed by Steinway Artist, Guggenheim Fellow and USA Fellow JEN SHYU (photo by Caterina Di Perri).
This powerful autobiographical work arose out of an intense period of self-reflection following the sudden death of JEN SHYU's father and a visit to a fertility clinic. Effortlessly weaving together music, monologue and video projection, SHYU traces the threads of her life to explore the painful terrain of expectation, ambition, longing and love.
Commissioned by John Zorn and premiered Oct 30 at National Sawdust, ZERO GRASSES reunites SHYU with Romanian director Alexandru Mihail, who also directed her acclaimed one-woman show Nine Doors, which premiered at National Sawdust in 2017 and was reprised at last year's Resonant Bodies Festival.
ZERO GRASSES will be preceded by a short participatory Intermedia Workshop for the audience (scheduled for 6:30 pm) before the performance, which will begin at 8 pm. The workshop, led by Jen, is open to all artists and art lovers alike. Everyone will be writing, singing, moving, acting, and improvising, so please try to wear comfy clothes and shoes, and feel free to bring any instruments or just bring yourselves.
In honor of Jen's father, and in partnership with WEARTH, for every ticket sold to this performance, a tree will be planted in the Tsu Pin Shyu | 徐澤濱 Forest in a conserved forest in Saskatchewan, Canada.

This piano for this concert is being provided with generous support by Steinway.
"The title and seed of ZERO GRASSES came from my ongoing collaboration and conversations with Garin Nugroho, the great Indonesian filmmaker and stage director, who directed my first solo theatrical work, Solo Rites: Seven Breaths. In light of Seven Breaths and Nine Doors, we began to discuss the number zero and its power as a metaphor for loss and disconnection, as in the deterioration of humans' ability to communicate with nature, to read the signs of nature, which is something I was already wanting to manifest artistically. So when John Zorn asked me to create a new work on October 30, 2019, for his series at National Sawdust, it seemed like the perfect opportunity to realize this vision.

"Zero Grasses is dedicated to my dearest father, Tsu Pin Shyu | 徐澤濱 (January 19, 1941 - April 2, 2019), who passed away unexpectedly in his sleep in his favorite chair during a nap while I was on a research fellowship in Japan. I was informed via email from the local sheriff who arrived with 911 whom Mom called when she couldn't wake up Dad. Before I left for Japan February of 2019, Zero Grasses was rooted in environmental concerns and an unforeseen ending of a long-term relationship when I turned 40. After rushing to Texas to take care of my mother and in the following months processing Dad's death, I worked intensely with director Alexandru Mihail on shaping Zero Grasses. Its themes expanded to include legacy, family, race, sexuality, fertility vs. barrenness in land and in our bodies, technology's effect on our connection with nature and to each other, our own conflicting ambitions, and an investigation of life when Mom handed me my childhood diaries from a shelf in Dad's closet when we were cleaning it out and deciding what to keep of his and what to give away. In performing this work, I am constantly reminded that it was Dad who inspired me to live life as I envision it. Zero Grasses is an hommage to all those who shape our lives in changing the world around us."

— Jen Shyu
Composition, vocals, piano, sound design, Japanese biwa, Taiwanese moon lute, dance: Jen Shyu
Director: Alexandru Mihail
Set and Projection Design: Kristen Robinson and Kate Campbell
Costume Design: Elizabeth Caitlin Ward
Lighting Design: Solomon Weisbard
Keynote Operator: Neil Beckmann
Media Production: Kinetic Expression LLC
This is the eighth and final concert in the series during 2019 and will take place on December 13, 2019 at 8 pm at CRS.
Tickets are $25 in advance $30 at the door. Students and seniors with valid ID can purchase tickets for $20 at the door. Tickets are available online at crsny.org, by phone (212-677-8621), and at CRS.
ABOUT THE ARTIST
JEN SHYU has performed with saxophonist and 2014 MacArthur Fellow Steve Coleman since 2003 and has collaborated with many luminaries. Shyu has performed her own music at Carnegie Hall, Lincoln Center, BAM, the Metropolitan Museum of Art, Rubin Museum of Art, Asia Society, Blue Note, National Theater of Korea, etc.
A Stanford graduate in opera with classical violin and ballet training, Shyu won many piano competitions and studied traditional music and dance in Cuba, Taiwan, Brazil, China, South Korea, East Timor and Indonesia. Shyu has won commissions and support from MAP Fund, the NEA, Jerome Foundation, etc., as well as fellowships from the Asian Cultural Council, Korean Ministry of Foreign Affairs, etc.
Shyu has produced seven albums as a leader, the most recent two included on The New York Times' Best Albums lists. Ben Ratliff wrote in The New York Times that her concerts are "the most arresting performances I've seen over the past five years. It's not just the meticulous preparation of the work and the range of its reference, but its flexibility: She seems open, instinctual, almost fearless."
jenshyu.com
ABOUT CROSSING BOUNDARIES
Now in its second year, CROSSING BOUNDARIES is a performance series devoted to creating unforgettable live art experiences that dissolve boundaries between performers and audiences, traditional and new music, and the local and the global, bringing people together and promoting the awareness that we each possess a limitless creativity inside us.
The 2019 season of CROSSING BOUNDARIES is made possible in part with public funds from Creative Engagement, supported by the New York City Department of Cultural Affairsin partnership with the City Council and the New York State Council on the Artswith the support of Governor Andrew Cuomo and administered by LMCC. LMCC empowers artists by providing them with networks, resources, and support, to create vibrant, sustainable communities in Manhattan and beyond.
Organizer of ZERO GRASSES: Concert by Vocalist/Multi-Instrumentalist/Composer Jen Shyu
CRS (Center for Remembering & Sharing)
 is a healing and art center founded in 2004 and located in Greenwich Village in NYC. The mission of CRS is to promote the awareness that limitless creativity lives within each of us. The Center's staff trains people to recognize the light in themselves and others and provide them opportunities to share their inner vision through the healing and creative arts. While open to everyone, CRS has from the beginning attracted many people from abroad, and has become known for presenting healing, arts, and cultural programs from around the world.