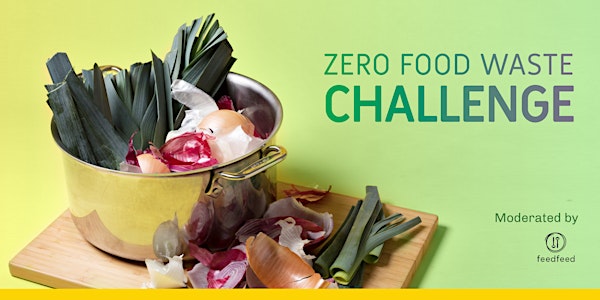 Zero Food Waste Challenge [NYC Food Waste Fair]
When and where
Location
Brooklyn Navy Yard 141 Flushing Avenue Building 77 Brooklyn, NY 11205
Refund Policy
Refunds up to 7 days before event
Description
** This event is part of the Food Waste Fair, an interactive event connecting the NYC hospitality industry with the resources and knowledge they need to get to #zerofoodwaste. Get your companion ticket here. **
---
From soup kitchen cooks to Michelin star chefs, New York's most creative culinary leaders compete at the Zero Food Waste Challenge to fight food waste!
Taste and vote! All guests will sample all the dishes and sip signature cocktails featuring an upcycled ingredient.
---
Why Fight Food Waste? Around a third of all food produced for human consumption is lost or wasted from the farm to the fork. Together, we can do something to help.
---
Enjoy our 8 Course Sampling Menu!
Citrus Onion Dip & Sweet Potato Chips paired with Punch

Skin-and-Stem Vegetable Poofs with Herb Labneh & Pecorino Pesto

Cauliflower 'Bone Marrow' with Beet Tartare & Cauliflower Leaf Salad

Spring Grilled Cabbage with King Trumpet Mushrooms & Spring Onion Ginger Sauce

Gochujang Hanger Steak & Vegetable Stem Tacos with Rainbow Chard Stem Kimchi

Fruit Infused French Toast with Spiced Apple Butter Compote

Cashew & Almond Milk Panna Cotta with Caramelized Honey Syrup

Ricotta Tart with Lemon Confit
+ Signature Cocktails featuring a surprise "upcycled ingredient"

Featured Chefs:
Michael Anthony Gramercy Tavern; Kirstyn Brewer and Claire Sprouse Hunky Dory; Suzanne Cupps and Amy Ho Untitled; Lynn Loflin, Tim Mercado and Michael Mangieri Lenox Hill Neighborhood House; Garrison Price Cafe Clover; Kendall Scodari Made Nice; Naama Tamir Lighthouse; and Cory Tomaino FLIK Hospitality.
---
Jake Cohen, Editorial and Test Kitchen Director at The Feedfeed, will be moderating a conversation with Challenge judges and interviewing Challenge chefs to learn more about the inspiration behind each dish!
Follow the livestream on Instagram at @thefeedfeed
Feedfeed is a food and lifestyle experiential media company, an influencer network, and the world's largest social media community and crowdsourced pub for cooking, baking and drinking.
---
The Challenge is a #zerowaste event. All excess food will be rescued by our charity sponsor, Rethink Food NYC.
Thank you to our event partners:
Culinary Advisor - Bonbite
Beverage Advisor - Purslane
---
The Challenge is a 21+ event with ID check at the door.
---
Proceeds from the Food Waste Fair and related programming support programs by the The Foundation for New York's Strongest, the official nonprofit organization of the New York City Department of Sanitation, including a microgrant program to help businesses establish food waste prevention, recovery and recycling programs.