Zero Emission Hackathon

Friday, April 25, 2014 at 6:00 PM

-

Sunday, April 27, 2014 at 5:30 PM (PDT)
Event Details
Zero Emission InnEVation
Presented by SF BayLEAFs
Hosted by Nissan Research Center - Silicon Valley

Come and join us between April 25th through the 27th to help create a more sustainable future. Tweet about this competition: #ZEHack, and form teams on HackerLeague.

We are looking for technical as well as non-technical people to build web apps, mobile apps, develop business ideas and concepts and to put together hardware hacks. We would like to help address the challenges and opportunities associated with the transition to Zero Emission transportation, and hope that you will share our passion on this mission.

Create, eat great food, compete for prizes across different categories, and most importantly: network with like-minded people to work on new or current projects.Our sponsors will give you inspiration for your ideas and help you to realize them.
Nissan Research Center - Silicon Valley will be on hand to inspire your ideas on how to improve EV ownership experience.

Schneider Electric - French-based global specialist in energy management wants to meet bright people with new ideas.

OSIsoft - Global leader in enterprise infrastructure for management of real time data and events is providing tools, and will help access our sample vehicle data.
ESRI - is providing technology that enables organizations to create responsible and sustainable solutions to problems at local and global scales.

ChargePoint - the biggest and fastest growing EV charging network in the country is proud to support this event with its network data and APIs.
SAP -  the world leader in enterprise software and software-related services is providing OpenXC-based vehicle simulator, complete with a steering wheel, pedals, and a connection to SAP analytics tools Lumira & HANA
Additional tools, data and API access provided by: Glen Canyon Corporation (advanced smart metering), Twillio (service credit and API), Local Motion.

We supply: inspiring introduction presentations, APIs, code samples, food to keep you going, and caffeine to keep you awake. In addition, our event partners are bringing a group of technical mentors to assist you in building faster, smarter and better solutions using new tools.

You bring: your laptop, skills, ideas and enthusiasm for zero emission transportation. Please arrive with a collaborative team-focused mindset. Feel free to form teams in advance on HackerLeague, Twitter, Facebook, Google+ or on mynissanleaf.com. We will do our best to help facilitate attendee communication leading up to the event.
Whether you are an EV driver or not, a backend developer, who likes to code in JEE/Ruby/PHP/.NET, a front-end UI wizard, or are a designer, you are invited to attend this event. Every group will need a good balance of talent, and your development skills are definitely needed! Please register early, tickets are limited.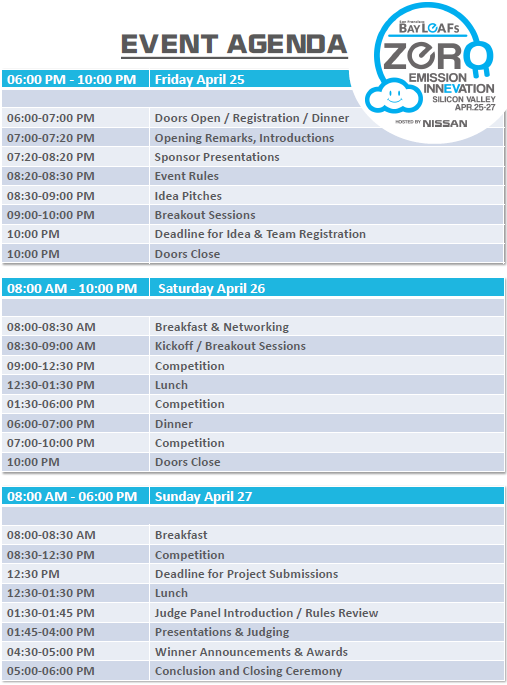 RULES & PRIZES
Event participation contingent upon acceptance of the official Competition rules. Find Competition rules and list of prizes here.
 
SOCIAL MEDIA
Tweet about your idea and participation with #ZEHack
Follow SF BayLEAFs on Twitter: https://twitter.com/sfbayleafs
Join SF BayLEAFs on Facebook: https://www.facebook.com/groups/BayLeafs/


SPEAKERS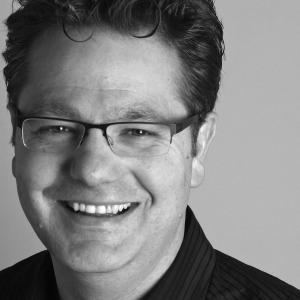 Dr. Maarten Sierhuis
Director, Nissan Research Center - Silicon Valley
Dr. Maarten Sierhuis is the Director of the Nissan Research Center Silicon Valley, and is leading the center's research efforts in the areas of autonomous driving, connected cars and human-machine interaction.
Dr. Sierhuis has more than 25 years experience in artificial intelligence research and setting research strategy. Dr. Sierhuis was previously the director of the Knowledge, Language and Interaction group at Xerox' Palo Alto Research Center (PARC), a Senior Scientist for over a decade in the Intelligent Systems Division at NASA Ames Research Center, and a researcher at NYNEX Science & Technology R&D Center.
Dr. Sierhuis has a Ph.D. in Artificial Intelligence and Cognitive Science from the University of Amsterdam and an Engineering Degree in Informatics from the University in The Hague, The Netherlands. He has presented many invited lectures and tutorials on agent languages, agent-based simulation, and multi-agent systems, and has published widely in these areas.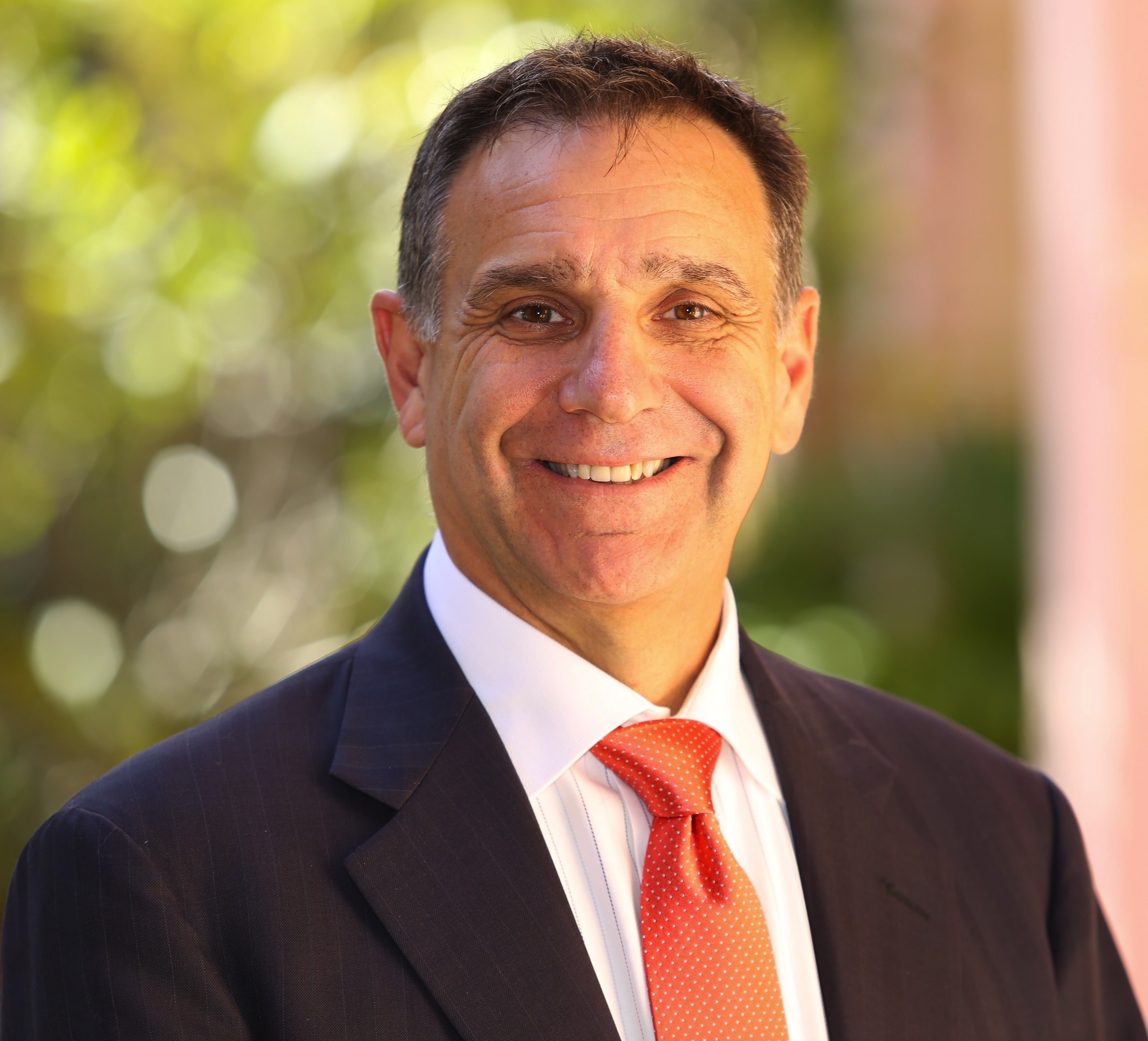 Mike Calise
Director, Electric Vehicles, Partner Business, Schneider Electric
Mike is a Director at Schneider Electric, the world's leader in Energy Management Solutions where he runs Schneider's North American EV business.
Mike has been a Cleantech executive for nearly a decade focused on energy efficient computing for large datacenters and supercomputers. Prior to Schneider Electric, Mike was the founder and CEO of EVadvise, an independent advisory firm focused on mass scale electric vehicle infrastructure deployments.

He holds a Bachelor of Science Degree in Electrical Engineering from University of Buffalo in NY, and is a member of the IEEE, California Clean Cars, Cleantech.org, Plug In America, the Electric Auto Association (EAA) and the Churchill Club.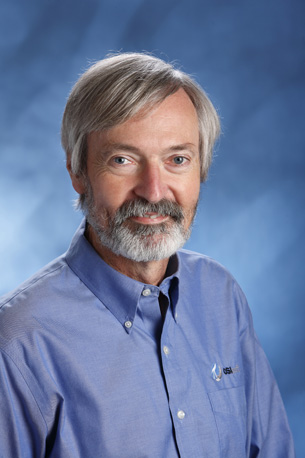 Don Smith
Chief Customer Strategist, OSIsoft

Don joined OSIsoft as the second employee in 1981 and has participated in many aspects of the development of OSIsoft products and services throughout the company's 25 year history. He has a B.S. Degree in Electrical Engineering from the University of Texas. Prior to OSIsoft Don held positions in plant construction, operations, and software design for Alcoa Refining and Chemicals Division. His hobbies include jogging, diving, and sailing. He is known by many for using the PI System to manage and analyze his marine aquarium since 1996.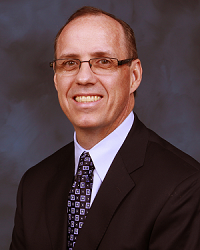 Brendan Jones
Director, Nissan EV Infrastructure Strategy & Development
Brendan Jones, Nissan's director of EV Infrastructure Strategy & Development, is responsible for developing the strategic plan for Nissan's EV Infrastructure and DC (direct current) Fast Charging Deployment. Jones has been a part of the EV team for more than four years and has contributed to the Nissan LEAF's success in a number of ways. In those four years, Jones has overseen the design and implementation of the online customer experience for Nissan LEAF including the online reservation and ordering system, and he led the team that established the Nissan LEAF as the best-selling EV of all time in North America.
Since joining Nissan in 1994, Jones has held positions of increasing responsibility in sales and marketing. He joined the EV team in 2009 and has served as the senior manager of the Nissan LEAF Customer Platform and director of Nissan and Infiniti EV Marketing and Sales Strategy. In the summer of 2013 Jones was appointed to the Board of Directors for the GoElectricDrive Foundation a charitable arm of Electric Drive Transportation Association Jones earned a bachelor's degree in communications and marketing, as well as a master's degree in international trade and commerce, from George Mason University.
JUDGES

Brendan Jones
Director, Electric Vehicle Infrastructure Strategy, Nissan North America
 
Toshi Muramatsu
Director of Vehicle Information Technology Division Silicon Valley, Nissan North America

Matt Miller
Transportation Industry Principal, OSIsoft
 
Marvin Green
Manager, EV Software Solutions, Schneider Electric
Dave Lewis
Project Manager, ESRI
 
Simon Lonsdale
VP, Business Development, ChargePoint
Maddi Hausmann
Board Member, SF BayLEAFs, EAA SV
EVENT TICKETS
No paper tickets will be required. Just show your registration confirmation email at the event registration desk when picking up your name badge. This badge is your event ID, and it must be visible at all times. For security reasons, a badge will be required to re-enter the building. Tickets are non-refundable but are transferrable. If you are unable to attend please contact us (events@sfbayleafs.org).
HOTEL ACCOMODATIONS

Sheraton Sunnyvale, which is in a short walking distance from Nissan Research Center,  has graciously agreed to provide a special event rate for up to three nights between April 25 and April 28. All Zero InnEVAtion participants and guests qualify for this rate. Two room options are available:
1. Standard King Bed - $89/night + taxes (including unlimited internet access)
These special room rates are available for reservations by April 18th only.
Use this link for on-line reservations:
https://www.starwoodmeeting.com/StarGroupsWeb/res?id=1404047777&key=1B2E7142

Phone reservations:
Call the 1-800-325-3535 or 1-408-745-6000 and ask for reservations. Make sure to reference code "SFLEAF" when talking to reservation agent

Hotel address:
Sheraton Sunnyvale Hotel
1100 N Mathilda Ave, Sunnyvale, CA 94089
Phone:(408) 745-6000
// <![CDATA[ var sc_project=9722576; var sc_invisible=1; var sc_security="d72e3730"; var scJsHost = (("https:" == document.location.protocol) ? "https://secure." : "http://www."); document.write("</"+"script>"); // ]]>
When & Where

Nissan Research Center - Silicon Valley
1215 Bordeaux Dr
Sunnyvale, CA 94089


Friday, April 25, 2014 at 6:00 PM

-

Sunday, April 27, 2014 at 5:30 PM (PDT)
Add to my calendar
Organizer
SF BayLEAFs is a member supported and operated California Corporation, which has been approved by the IRS as a 501(c)(3) tax-exempt non-profit effective April 10, 2012.

We specialize in education, public outreach, environmental activism, relationship building, social media, electric vehicles, charging infrastructure, local government, policy making, and events.

If you would like to get more information or make a tax-deductible donations to SF BayLEAFs, please visit our website.