Zero 9:36 w/ Fame on Fire & Garzi at the High Watt
About this event
Completed COVID-19 vaccine card OR negative PCR/rapid test result required for entry. See here for additional info.
STANDING ROOM ONLY - PLEASE EMAIL info@mercylounge.com FOR ADA ACCOMMODATIONS
VALID GOV'T ISSUED PHOTO ID REQUIRED - NO EXCEPTIONS
Zero 9:36
Siphoning precise raps through a battlefield of distorted guitars and glitchy hues, Zero 9:36 holds up a mirror in his music and beckons reflection. The Philadelphia post-genre sonic insurgent, singer, creative, and rapper rhymes with the force and fire of a prizefighter as he lands hard-hitting hooks meant to explode on impact. After grinding under-the-radar for years and augmenting his signature style with cybernetic beats and guitar transmissions from frequent collaborator and producer No Love For The Middle Child, he caught the attention of ATCO Records in 2019. Signed personally by C.E.O. and industry legend Pete Ganbarg as the relaunched label's flagship act, he metamorphosized again. Powered by highlights such as "Leave The Light On" and "WWYDF," the You Will Not Be Saved EP introduced him as it generated 25 million-plus streams.
On its heels, he joined forces with grandson on "Again (Text Voter XX to 40649)" in addition to dropping the acoustic Barebones Vol. 1 EP in 2020. Zero 9:36 unleashed "The End" and its companion remix "The End/Undead" [feat. Hollywood Undead] and the anthemic "Adrenaline," the latter of which hit #1 on Mediabase's Active Rock airplay chart earlier this year and stands as the #1 most played current or recurrent at the format in 2021. Adapting to any setting, Zero 9:36 has toured alongside Shinedown, Neck Deep, and Pop Evil, made festival appearances at Welcome to Rockville, Inkcarceration, and Rocklahoma, and collaborated with everyone from Travis Barker and grandson to Hollywood Undead and Theory of a Deadman. Zero 9:36 proudly occupies a lane of his own on the 2021 EP, …IF YOU DON'T SAVE YOURSELF [ATCO Records] which has amassed over 41 million streams led by the single "In My Hands" [feat. Travis Barker & Clever].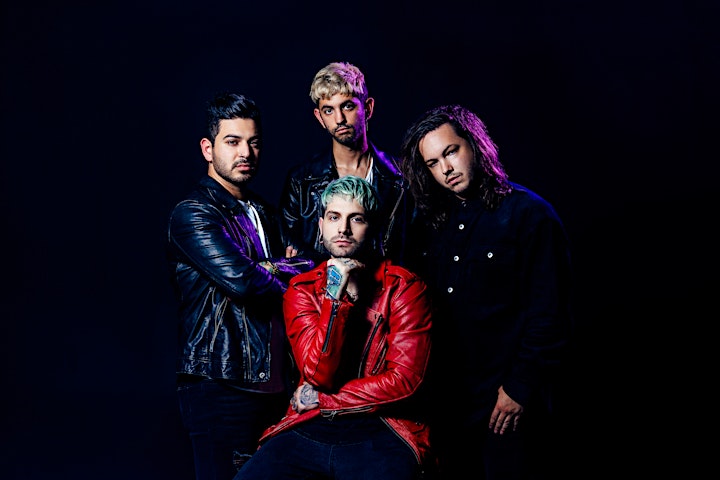 Fame On Fire
Fame On Fire is genre-defying and pushing the boundaries of rock, hip hop, and heavy music, by unapologetically being themselves. Unpretentious, honest, and boldly brash, Fame On Fire has delivered a diverse, energetic, and emotionally-wrenching collection of songs for their debut album, LEVELS. Holding multiple meanings, LEVELS, is both about going through the motions of life, the various levels, ups and downs that all people can relate to, and about the quest to level-up and continue to progress and move forward. This dichotomy defines a band that is not willing to stand still or be complacent, but one that continuously tries to evolve their sound and craft.
Leaving absolutely nothing on the table, Fame On Fire self-produced, tracked, and mixed the album on their own, in the studio they built, laboring over every lyric, chord, beat, and riff, and painstakingly polishing every track. On "Her Eyes" - the band's first #1 song on Sirius XM Octane - singer Bryan Kuznitz explores the turmoil of surviving an emotionally abusive relationship with the brutal honesty of someone who wants to push through any challenge and remains hopeful in getting to the other side.
It is this hopefulness that ultimately prevails in an album that doesn't shy away from themes of anguish, loss, and toxicity in relationships and life. Whether it be fighting demons and breaking out of the internal prison of the mind in "HEADSPACE FT. POORSTACY" or swimming consciously through a downward spiral in "Down," Fame On Fire paints a visceral portrait of the uneven journey of life that we all go through and that we can all get through together. Through the darkness comes a flicker of hope that shines through to a new day.
With LEVELS, Fame On Fire set out to show how important music is for the band and their fans. According to guitarist, Blake Saul, "Our band exists because all of us grew up together and we each found our own ways to music, which is living and breathing inside of us." LEVELS proves that Fame On Fire is ready to help define a new era of rock music. Just don't call Fame On Fire a cover band.
Fame On Fire is: Bryan Kuznitz (Vocalist), Blake Saul (Guitarist), Alex Roman (Drummer), Paul Spirou (Bassist)