Event Information
Refund Policy
Contact the organizer to request a refund.
Eventbrite's fee is nonrefundable.
Let's combine some satisfying watercolor technique with Zetangle elements and create a dreamy, illustrative Great Blue Heron!
About this Event
Zentangle® is a therapeutic drawing method that involves using primarily pen and ink to draw and combine patterns within a limited amount of space.
Furthermore, it's a creative way to practice mindfulness while simultaneously giving you artistic confidence and freedom.
In this class, I'll be teaching you how to combine Zentangle patterns with the addition of some simple watercolor techniques.
Project: We will be completing a detailed Great Blue Heron with tangled elements decorating the entire scene! If you ask me... Great Blue Herons are the coolest marsh bird!
I've been a certified instructor of Zentangle since 2011 and I currently teach a variety of art workshops outside of my studio on the coast of NC. Current events are making those creative gatherings a little tough right now, so I decided to give this a go!
Fee: $30
Just a few materials are required for this project. However, if you do not have all of these materials on hand, that's perfectly fine. Use what you have for this class, take notes, and pick up some different materials later. OR simply attend this workshop with a cup of coffee, tea, etc. in hand and give it a go later!
You will need:
- The provided Heron template (which you'll have access to after purchasing your ticket) lightly traced onto watercolor paper with graphite. I suggest an 7x10 inch (at least) 140 lb - 100% cotton - Cold Press - watercolor paper. You can accomplish the tracing with the assistance of a light box or by taping your template and watercolor paper against a window and let the sunlight help you out. I recommend tracing two of these so that we have one to practice and color swatch on top of.
-Extra watercolor paper for practice!
- A Fineliner Pen ( Like an 01 Sakura Pigma Micron or similar) It needs to be waterproof!
- Graphite Pencil (A 2B or HB pencil will be fine)
- Med-Large Eraser
- A set of watercolors. Anything you can get your hands on. I will personally be using a mix of Sennelier L'Aquarelle Watercolor pans and Fine Tec's Metallic watercolors. I'll send an e-mail with the colors I'll be using.
-Mixing Palette (could be anything nonporous and ideally white in color... like a plate! Or Wax paper!)
- Various sized round brushes between 2/0 and 10, one or two cups of clean water, and plenty of paper towels or a damp sponge to blot and clean your brushes. I'll personally be using a supperr tiny round brush (2/0), a size 6 round, and a size 10 round. If you don't have all of these brushes, that's okay. If you have a size 0, 1, or 2... you'll probably get away with those for the fine detail work. The smaller the better.
- Hair Dryer! (very important for time's sake)
Mix these items with a little time, a clear work surface, a cozy beverage, and get ready to dive into the world of Zentangle (AND WATERCOLOR)!
I look forward to meeting you in class!
To learn more about Zentangle, visit: www.zentangle.com
Students must pre-register via Eventbrite.
If you have any questions, feel free to message me at mhstudio@live.com.
Upon registration, you will be sent the Zoom Video Conferencing link along with the ID and password.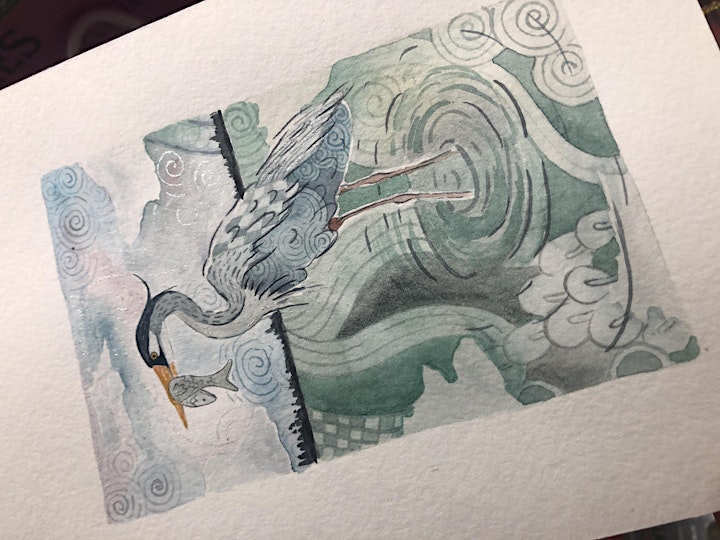 Date and Time
Location
Refund Policy
Contact the organizer to request a refund.
Eventbrite's fee is nonrefundable.