Event Information
Refund policy
Contact the organizer to request a refund.
Eventbrite's fee is nonrefundable.
Climb into your Zentai suits (or just join me in mine) and just let it all go Tuesdays in May!
About this event
Every week in May, join Katarina "theDommeKat" Pierce for some Zentai-clad mischief. No two Zentai (zenshin taitsu) shows will be the same!
Each ticket gives you access to one live stream and its playback. So, pick and choose your favorite Zentai topics or don't miss a material-clad minute with a ticket bundle for all four show dates.
May 5: Dress for Success - Even when working from home, one must always dress to impress, so Katarina will be sure to have all her suits ready for this suit up show.
May 12: Looney for Zentai - Ever hear that saying about cats, "If it fits, I sits?" Well, the saying goes for Kat, too, if you ask those whose faces have served as a perch for the wrestler's shapely bum. Get ready for sitting and scissorholds using balloons!
May 19: Feets and Treats - Are you supposed to be working right now? Forget your job! Kat's cloth-covered piggies have a job to do along with textiled tootsies that tease, torture, dominate and demand worship.
May 26: Fan Favorites* - Before the show, get your requests in! The most fan-requested topic (and most feasible) will be chosen as part of the day's show along with other Zentai shennanigans for Katarina's amusement. Want a repeat of the suit up show? How about Zentai bathtime? Only ticket-holders get to vote!
Each hour will feature performances* by Katarina and a chance to chit-chat. Yes, chats in Zentai! If you've ever seen any of Katarina's Zentai videos, she definitely makes Zentai her own when she pairs her signature trash talk and verbal humiliation with the full-body Zentai look. She's like a sexy smack-talking cartoon!
So suit up or chill out. This is your chance to hang with other Zentai fans and watch curvy Katarina do her cloth-covered thing.
* Tips/Tributes always welcome and appreciated during the performance or when submitting fan requests.
When: Tuesdays in May at 3 p.m. ET
Where: Online (information sent via email before event begins)
If you miss the live show, your ticket includes access to the episode playback!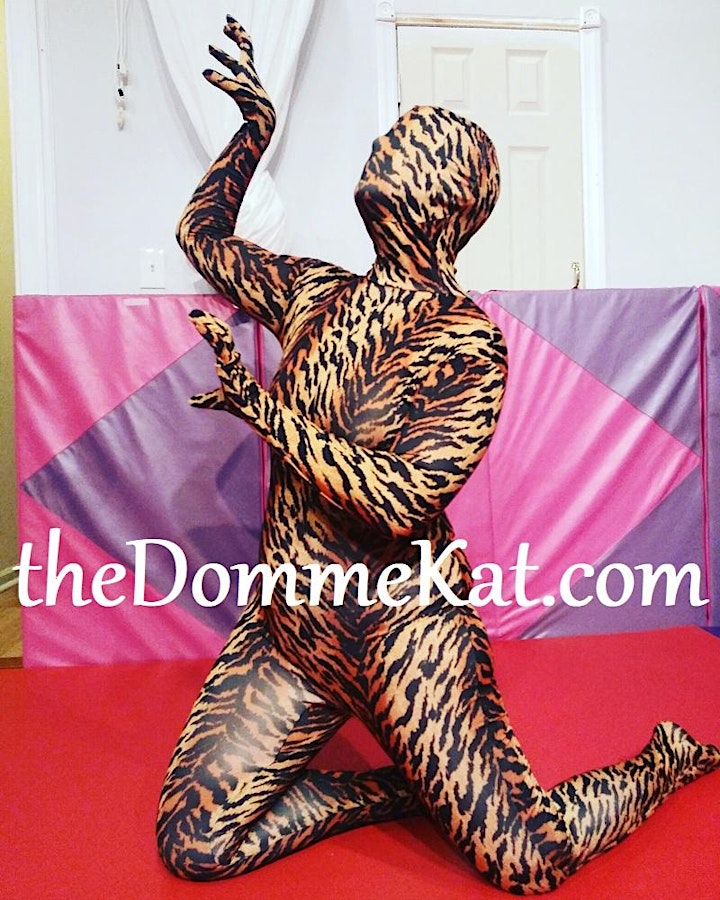 Location
Refund policy
Contact the organizer to request a refund.
Eventbrite's fee is nonrefundable.
Organizer of Zentai Showgirl Showcase
Katarina "theDommeKat" Pierce is a NYC-based wrestler, performer, educator and advocate. Kat is the founder and creative director of the independent f//tish production company Kat Scratch Studios. She co-founded SW Survival Guide, a non-profit organization advocating for the rights and safety of s//x workers, and serves on the board as the vice president.