ZENMothra # 4 :: good friends. good stories. good times.

Friday, February 17, 2012 at 6:30 PM (EST)
Event Details

scenes from ZENMothra # 3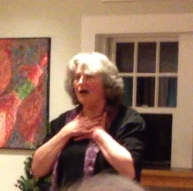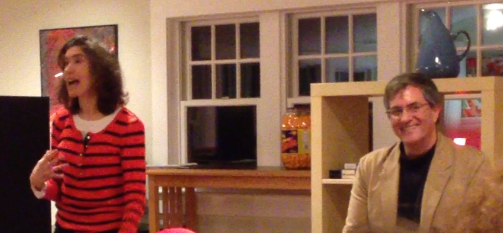 our sponsors
zen masters

    wake up & smell the poetry
    womens art forum
artizens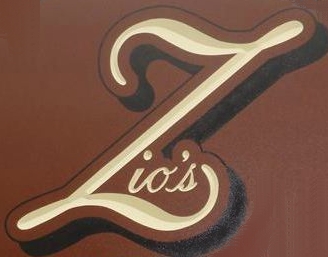 zio's bistro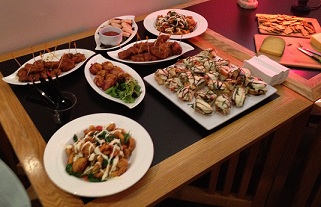 ---
our sponsors help organize this event and contribute to our enjoyment of the evening by providing a location, food and drinks.
please consider supporting them with your patronage in return.
inspired by the moth radio hour, the community at the zen bungalow has partnered with hopkinton's wake up and smell the poetry and the women's art forum to create ZENMothra -- a unique gathering of friends & neighbors who love sharing good stories and engaging in good conversation around them.  
it's not just about stories...

if you've ever listened to the moth radio hour, you've experienced how ordinary people create an extraordinary event simply by sharing meaningful anecdotes from their lives.
well, we're a bunch of moth-o-philes taking a slightly different tack.  "storytelling" remains central to the evening, but we believe there's even more magic to be made when real stories from our lives are shared among friends and neghbors in a conversational setting instead of a "performance" setting.
and because the zen bungalow community is tied to world of commerce, we believe any opportunity that can inspire or perfect our ability to share stories directly translates to better marketing communications in our businesses.
so we'll provide the environment.  you provide the stories.  together we'll create the good times.
february's featured stories
michael healy
michael's story(ies) ::  TBD
about michael ::  TBD
linda havel
linda's story(ies) ::  recently returned from another "pilgrimage" to  Florida,  she will share a brief story / poem about "away sickness" -- a familiar experience "of longing to go somewhere that will never be home again among people I'll never know well enough to belong to."
about linda ::  living by a large lake for fifty years and telling stories for twenty-five, all in order get a closer look at life's changes (from her great-grandparents' letters right up to her grandchildren's west coast facebook stories).  
deborah lynn
deborah's story(ies) ::  it's only fitting this event takes place in the zen bungalow, as zen is all about living "in the moment."  deb will take inspiration from the people and the moment to share a truth meant to be expressed "in the moment."   
 
about deborah ::  deborah's a mother, a grandmother, a daughter, a wife and a writer...  her husband has observed she "...sees the spirituality in all things, animate and inanimate,"  and she hopes to share some of that with us on this month.
deborah rocha
deborah's story(ies) ::  when slaves arrived in Brazil, their masters allowed them to worship their own gods so long as those gods wore the garb of Catholic saints:  deborah will share a personal experience of a spirit following her, a medium perceiving that spirit, and the suggestion she lead that spirit to where it ought to be. 
 
about deborah ::  deborah was born and grew up in kansas, moved to boston where she met her husband (who happened to hail from brazil), and then got to live a life-long dream -- to live in underdevelopment with access to a tropical beach. finding underdevelopment a bit more than it's cracked up to be, they returned to boston and she now enjoys the wonder of seeing the world once more through the innocent eyes of her grandchildren.   
 what's the format for the evening?
because the ZENMothra is first and foremost a social event, we're making our program a friday night gathering among friends.  here's what to expect ::
| | | |
| --- | --- | --- |
| 6:30am - 7:00pm | ::  | arrive & mingle over appetizers and drinks |
| 7:00pm - 8:30pm | :: | storytelling time |
| 8:30pm - 9:00pm | :: | mingle for a while longer |
| 9:00pm - ?? | :: | for those who have purchased dinner tickets, our table awaits us! |
what's for dinner?
zio's bistro is pleased to offer a choice from one of the following entrees  ::
apple & walnut salad with grilled salmon
Fresh field mixed greens topped with granny smith apple wedges, grilled asparagus, maple honey glazed walnuts, crumbled gorgonzola cheese & grilled salmon. 
 
chicken marsala
sauteed cutlets with fresh sliced mushrooms in marsala wine sauce. 
 
truffled chicken risotto
garlic grilled chicken and a spicy broccoli rabe in creamy risotto finished with a hint of white truffle oil. 
 
baked haddock maria
filet of fresh haddock backed with a creamy lobster sauce and topped with seasoned panko crumbs.  served with mashed potatoes.


braised beef short rib
fork tender, rootbeer braised short rib in jus served with mashed potatoes and broccoli rabe. 
 
anything else i need to know?
yeah, there's probably a few things we should cover with you up front  ::
first and foremost, the ZENMothra is about having fun. 
 
second (and only slightly less important) is you must commit to making making new connections with your friends & neighbors (or just making new friends!).
 
although we ask everyone to leave political correctness at the door, we do have one absolute rule for those in attendance -- any stories you share cannot contain attacks on other individuals or groups (ethnic groups, political groups, etc., etc.)  violators will be publicly humiliated... or worse.
we look forward to seeing you!
When & Where
15 Main Street, 2nd Floor
Hopkinton, 01748


Friday, February 17, 2012 at 6:30 PM (EST)
Add to my calendar
Organizer
zen bungalow
the zen bungalow is both a physical space and a diverse community.
as a physical space, we think we have something pretty special.  by day we're a light, airy and inspiring professional office -- with a conference room and zen water garden rounding out our special features.   and because we think work - life balance is important to success in both, we occasionally come alive at night (and on weekends) with workshops, yoga classes and cultural events.
our community is as diverse as our space.  our consultants, freelancers, remote workers, small businesses & non-profit organizations all contribute to creating the simplicity, clarity and focus that is our hallmark.
an initiative of main street ventures, the zen bungalow is the place for unparalleled strategic collaboration.  and fun times.  check us out!
ZENMothra # 4 :: good friends. good stories. good times.