ZENMothra # 22 :: good friends. good stories. good times.

Friday, March 28, 2014 at 6:30 PM (EDT)
Event Details

scenes from ZENMothra # 3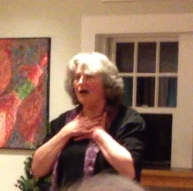 so popular that attendance is by invitation only... join our mailing list so you can receive an invite.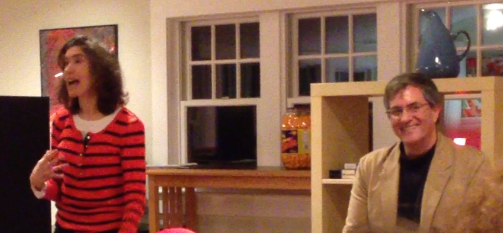 our sponsors
zen masters

    wake up & smell the poetry
    womens art forum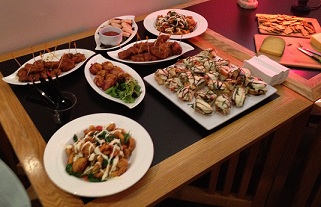 ---
our sponsors organize this event and contribute to our enjoyment of the evening by providing a location & beverages.
ticket fees are used to defray the cost of food and other incidentals.
ZENMothra is a fairly regular monthly gathering of new and old friends (we usually take the summer off, and might skip a month every now and then).  we gather in an intimate setting, sharing food, drink and stories as the evening unwinds.
march's features
we start sharing stories every evening with featured storytellers.  this month, we welcome another three phenomenal storytellers to the bungalow to kick off our evening ::
raelinda woad
raelinda lives in salem, right around the corner from the sea. she subsidizes her storytelling habit by creating and selling books of all sizes and substances. her tiniest book is made out of metal and her largest book is made out of electricity. She'll be sharing a story called "desperately seeking synchronicity."   
cynthia franca
cynthia is author of a poetry book called "poetic treasury," and a brazilian who now lives in hopkinton.  her  story is derived from her family's move from brazil to the united states -- an experience where she saw her live completely change and had to reinvent herself from a new perspective.  she calls her story "moving" -- and we're sure it is!
johanna lyman
johanna is a speaker, coach and producer of a theatre performance called "opening pandora's box: stories of truth and hope."  she'll be sharing the story that started it all, called "lessons from the womb." 
you and everyone else
the second half of our evening is dedicated to you and everyone else in attendance.  everyone has a story to tell...  what's yours? 
a short history... 
inspired by the moth radio hour, the community at the zen bungalow has partnered with hopkinton's wake up and smell the poetry and the women's art forum to create ZENMothra -- a unique gathering of friends & neighbors who love sharing good stories and engaging in good conversation around them.  
it's not just about stories...

if you've ever listened to the moth radio hour, you've experienced how ordinary people create an extraordinary event simply by sharing meaningful anecdotes from their lives.
well, we're a bunch of moth-o-philes taking a slightly different tack.  "storytelling" remains central to the evening, but we believe there's even more magic to be made when real stories from our lives are shared among friends and neghbors in a conversational setting instead of a "performance" setting.
and because the zen bungalow community is tied to world of commerce, we believe any opportunity that can inspire or perfect our ability to share stories directly translates to better marketing communications in our businesses.
so we'll provide the environment.  you provide the stories.  together we'll create the good times. 
 what's the format for the evening?
because the ZENMothra is first and foremost a social event, we're making our program a friday night gathering among friends.  here's what to expect ::
| | | |
| --- | --- | --- |
| 6:30am - 7:00pm | ::  | arrive & mingle over appetizers and drinks |
| 7:00pm - 8:45pm | :: | storytelling time |
| 8:45pm - 9:00pm | :: | mingle for a while longer |
| 9:00pm - ?? | :: | for those who wish to have dinner downstairs at pan thai, our table awaits us! |
anything else i need to know?
yeah, there's probably a few things we should cover with you up front  ::
first and foremost, the ZENMothra is about having fun. 
 
second (and only slightly less important) is you must commit to making making new connections with your friends & neighbors (or just making new friends!).
 
although we ask everyone to leave political correctness at the door, we do have one absolute rule for those in attendance -- any stories you share cannot contain attacks on other individuals or groups (ethnic groups, political groups, etc., etc.)  violators will be publicly humiliated... or worse.
we look forward to seeing you!
Have questions about ZENMothra # 22 :: good friends. good stories. good times.?
Contact zen bungalow
When & Where

zen bungalow
15 Main Street, 2nd Floor
Hopkinton, 01748


Friday, March 28, 2014 at 6:30 PM (EDT)
Add to my calendar
Organizer
zen bungalow
the zen bungalow is both a physical space and a diverse community.
as a physical space, we think we have something pretty special.  by day we're a light, airy and inspiring professional office -- with a conference room and zen water garden rounding out our special features.   and because we think work - life balance is important to success in both, we occasionally come alive at night (and on weekends) with workshops, yoga classes and cultural events.
our community is as diverse as our space.  our consultants, freelancers, remote workers, small businesses & non-profit organizations all contribute to creating the simplicity, clarity and focus that is our hallmark.
an initiative of main street ventures, the zen bungalow is the place for unparalleled strategic collaboration.  and fun times.  check us out!
ZENMothra # 22 :: good friends. good stories. good times.