Zendo Stereo, Music Meditation Journeys. Live mixed music meditation to accelerate and optimize flow states, relaxation, and creativity.
About this event
Take a musical deep dive, a musical journey that is both musical meditation and psychedelic experience, bending time and inner space to explore your hidden potential.
Each Zendo Stereo is a one of a kind experience, conceived and performed by Leo Canneto, using music to explore sonic landscapes that lead to deeper relaxation and meditative states, enhancing flow and creativity.
The experience uses wireless headphones for perfect acoustic placement (there are no bad seats in the house!), eye masks to allow you to go deep inside yourself, and multiple sub-bass speakers so you can feel the music!
You will lay down on our air pads for maximum sound transmission and comfort (pillow & blankets also provided by us), finding your most comfortable position and surrendering to the flow.
Before the music starts there will be a brief intro to music meditation and the benefits of mindfulness & meditation.
Once the journey is over we will have time to integrate and connect with each other as we come back online. ♥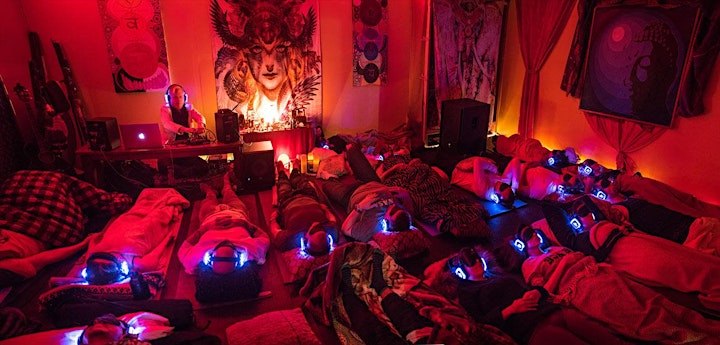 TIMELINE
7:00 PM | Doors open - grab your spot and get comfy! Try not to eat a huge meal before coming in, you want to relax laying down, so eat 1 hour before. :)
Tea and water will be available before we take off!
7:15 PM | Doors close & event starts: with intention setting, & and a brief talk on the benefits of musical meditation. Once doors close we can't let anyone else in, so please consider this if you think you can't make it in time. Once the journey begins there is no way to jump in mid-way and it would also disrupt others.
The curated event runs from 7:15 pm to 8:30 pm, then we have 30 minutes to slowly reboot and connect with the people around you.
WHAT TO BRING
A no-spill drinking vessel. We provide headphones, eye mask, air pads, pillows and blankets. If you have an eye mask you love, bring that too, or else we will provide them.
DRESS CODE
Comfy outfits: We will lay down for the sonic journey.
DRINKS
Tea and water available before and after the event.
See you all there!
For more information on Zendo Stereo, please visit https://zendostereo.com/
Instagram: https://www.instagram.com/zendostereo/
Facebook: https://www.facebook.com/zendostereo