Defining Creative careers with our San Francisco team
About this Event
Zendesk's Creative department consists of people from 18 unique Creative disciplines that span across the Product Design, Brand, and Design Operations teams.
Sure, our team has what you'd expect: Product Designers, UX Researchers, Brand Designers, and Copywriters—but we like to keep everything under one roof. Our in-house team also hosts Photographers, Presentation Designers, UX Content Strategists, Audio Designers, and more—plus the soon-to-be Product Design Operations team.
We've told you who we are, but you're probably still wondering what Creatives at a tech company like Zendesk do day-by-day. This kick-off event sets out to define what some of these roles really are—coming from the people who do the work.
Join us for lightning round presentations by five of our Creative team members who will share about their unique roles on the team followed by audience Q&A.
Agenda PST (GMT-7)
5:00-5:10PM Introductions
5:10-6:00PM Speaker presentations
6:00-6:30PM Audience Q&A
Timezones:
5:00PM San Francisco, Portland time
7:00PM Austin, Chicago time
8:00PM New York, Montreal time
8:00AM Singapore time (following day)
10:00AM Melbourne time (following day)
Speakers
V Sri Senior UX Content Strategist
Dianne Que Senior Manager of Product Design Ops
Kristina Alford Senior Digital Designer
Elias Rabeh Presentation Designer
Marta Dymek Senior Photographer
Moderated by Alexa Herasimchuk, Design Community Manager
--
About Zendesk
Zendesk is a service-first CRM company that builds support, sales, and customer engagement software designed to foster better customer relationships. From large enterprises to startups, we believe that powerful, innovative customer experiences should be within reach for every company, no matter the size, industry or ambition.
Zendesk serves more than 150,000 customers across hundreds of industries in over 30 languages. Zendesk is headquartered in San Francisco, and operates offices worldwide.
Learn more at zendesk.com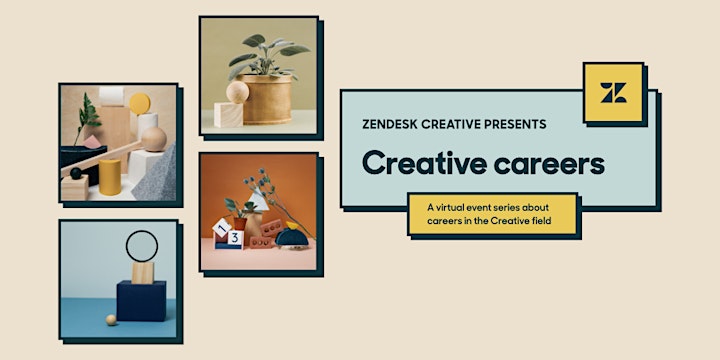 This event is apart of a virtual event series about careers in the Creative field
The Zendesk Creative department is made up of people in the Product Design, Brand, and Design Operations teams. We're much more than professional pun-sters, arts n' crafters, and software wizards. We all have specific responsibilities, but together we help create the best customer experiences.
Join our community and stay up to date on the upcoming events.
To stay connected follow us on Instagram and to stay up to date on new articles our team writes, visit our website: design.zendesk.com
We are hiring. Check out our open roles at zendesk.com/careers