Zen Launchpad Spring Break 2019 Camp – Young Entrepreneurs - Product Develo...
Description
Zen Launchpad Spring 2019 Camp - Entrepreneurship, Design & Technology

This year we are pleased to offer a spring break program for 13 to 17 year olds that will be held at Zen Launchpad, the North Shore's premier business incubator where participants will learn about the intersection of entrepreneurship, technology and design.
It is just upstairs from Zen Maker Lab where participants will be able to prototype their product ideas! It is perfect for those that were in one of our Zen Maker Lab camps when they were younger and who now want to go to the next level and do more advanced topics and learn about the commercialization process.
INote: This is limited to just eight participants so that we have a high instructor to participant ratio.
Team taught by industry leaders from business, engineering and design, this one week program will guide participants through a process of design, making, iteration and commercialization of a product idea the students come up with.
Participants will also get to explore and use the fully equipped Zen Maker Lab for their projects and Zen Digital, a digital agency and print and sign shop.
Participants learn valuable skills about business, technology and design along with leadership.
Zen 247 Community Innovation Hub
Because the camp is being held at ZEN 247, an innovation centre that includes a maker lab, digital printing and media centre, and hardware startup tech incubator, participants will have access to technology, equipment and a unique "real life" tech environment. They can get a feel of what it's like working in a tech space.
Whether it is building a full colour model in our industrial powder 3D printer or printing 3D designs in our 3D printer farm, or laser cutting parts for projects, or printing posters on large format printers, we get a lot of comments like "best camp ever" and "this is the coolest place there is!".
Industry Instructors
Our camps are taught by industry leaders that are active in their fields and that are passionate about introducing kids and youth to cutting edge technology. You can see our instructors page for more details.
We also have a high instructor to student ratio with at least one instructor and one helper for every eight kids. Kids and youth will have fun while learning some valuable skills in a fun and safe environment.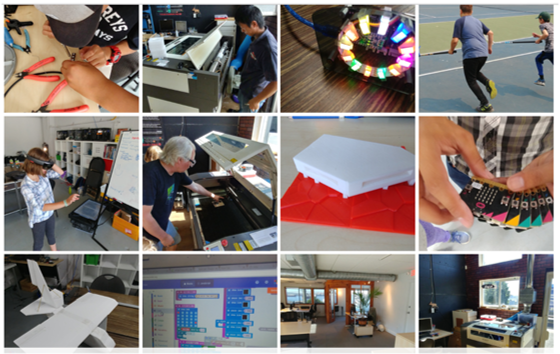 Details:
We are just a 15 minute sea bus ride from downtown and a short walk from the seabus station. We are also very accessible from Highway 1 and the Main Street exit.
Laptops
Laptops can be rented for $30 a week or children can bring their own laptop.
Siblings
If you are registering more than one child from the same family in one of our camps, you can get a 15% discount off your registration. When registering, you can use the discount code "sibling" (without quotes) to get this discount for all of your children you are registering.
Friend Referrals
If your child refers a friend or friends, both you and your friend can use the code "friend" to get a 10% discount off your registrations. When using this discount code, please just send us an email afterward to info@zenmakerlab.com to let us know which friend you were referred by or that you referred.
Additional Questions
If you have additional questions, you can reach us at 855-936-6253 (1-855-ZEN-MAKE) or email us at info@zenmakerlab.com. Our website at zenmakerlab.com also includes information about other programs we offer such as after school programs, PD days and monthly memberships to our maker space.