Zen Freeman & DJ Graham Funke

Saturday, August 27, 2016 at 10:00 PM

-

Sunday, August 28, 2016 at 3:00 AM (PDT)
Event Details
Temple presents Zen Freeman and DJ Graham Funke on August 27th, 2016.
Since moving to Los Angeles in 2001, British DJ, producer, and remixer Zen Freeman has made a name for himself as the go-to DJ for high profile events around the world. Over the last 10 years, Zen has worked tirelessly perfecting his craft producing, scoring and sourcing music by day whilst playing clubs and events worldwide by night. His unwavering passion for discovering new music has allowed him to remain one step ahead of the curve.
The mark of any great artist is the respect he is given by his peers - Zen is no different. His nearly telepathic ability to read a crowd has lead him to spin alongside international superstars Paul Oakenfold, Black Eyed Peas, LMFAO, Nicki Minaj, Lady Gaga, Katy Perry, Justin Timberlake, Pete Tong, Felix Da Housecat, Moguai, Diplo, The Black Key's, Jane's Addiction, and Foo Fighters. His most recent remixes include collaborations with Paul Oakenfold, Brunette, Jump Jump Dance Dance, Remy Le Duc & EC Twins.
"I let my worldview define the DJing," says DJ du jour Graham Funke, "Not my DJing define the worldview." Seasoned in nightlife, well-read and well-rounded, the Los Angeles native draws inspiration from the brightest beacons of other industries, be it Mark Twain, Robert Evans or Bob Guiccione, and has implemented those influences into what he sees as the basic compounds of DJing: philosophy and science.

Taking a cue from the life of thespian Cary Grant, who claimed "I just play myself to perfection," Graham Funke has appeared in a cadre of television commercials, and utilizing the fine education he received at both the University of San Francisco and UCLA, is a published journalist. But the majority of his time is spent behind turntables, in cities across the US and abroad, with regular monthly appearances in the nightlife meccas of Las Vegas, Hollywood, Chicago, and Miami.
Contact us at 415.312.3668 or vip@templesf.com for reservations.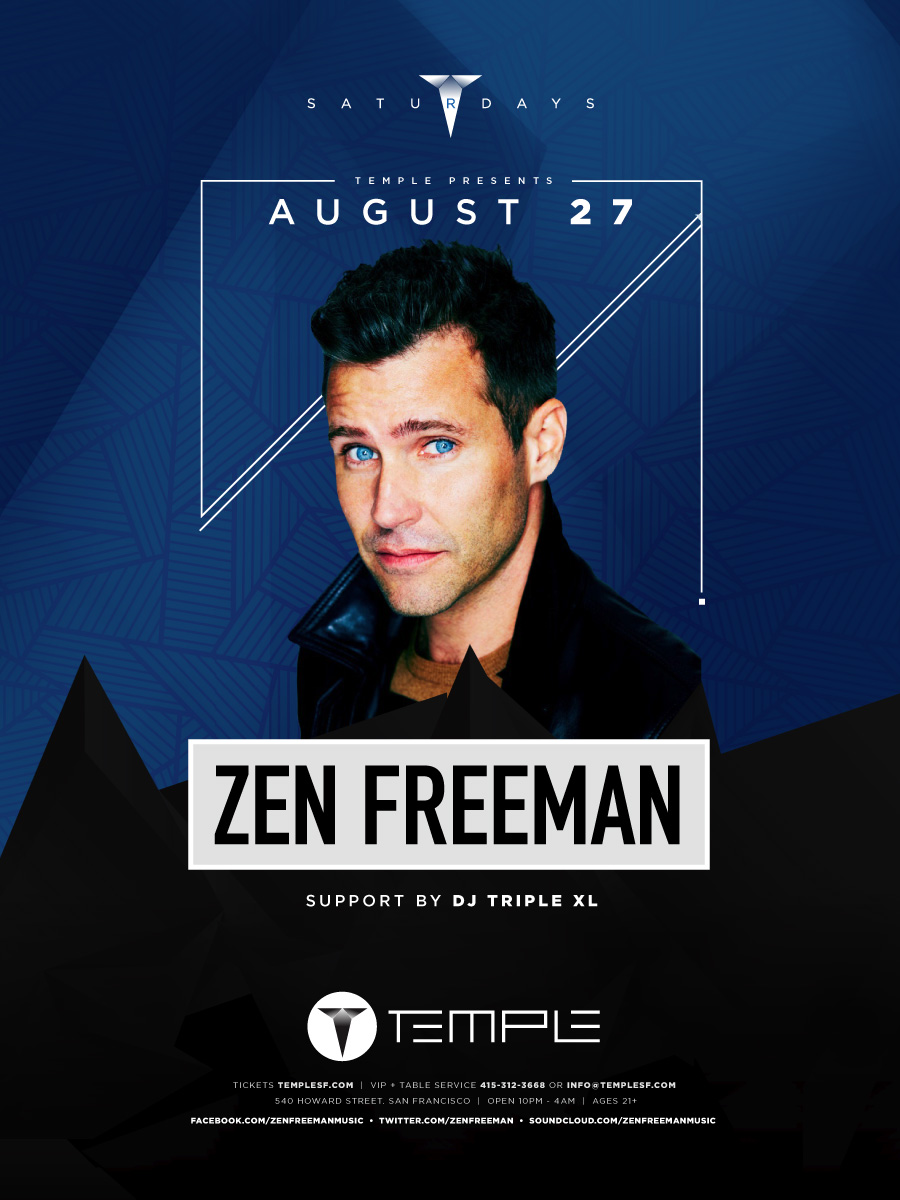 Organizer
Temple Nightclub
Temple promises to bring quality & integrity back to the Bay Area scene, with a venue that is run by artists, for artists. Dedicated to the education, preservation and evolution of the electronic music scene, our business provides a functional, flexible and creative work environment for everybody that truly believes in social responsibility, forward thinking and a passion for the environment. 

At Temple, our values drive us to create a space that has a minimum negative environmental impact. Combining innovation with environmental awareness, all our events are "low to zero" waste.  

Stay informed by checking out http://www.templesf.com 

Temple features three rooms, three dance floors, and unlimited possibilities.

20,000 sq ft | 3 Levels | 3 Dance Floors | 6 Bars | 4 VIP Rooms
Zen Freeman & DJ Graham Funke