Sales Have Ended
Ticket sales have ended
Thank you very much for your booking :) I am Momo from Japan that hosts "zen eating" for you. I am sending this message to ①make sure you will be ready to join this experience comfortably ②share a brief introduction about zen with you that you might be interested in! [Be ready!] 1. Kindly bring your own meal or snack. 2. Download Zoom (www.zoom.us) to your laptop or smartphone. 3. Find a quiet space where you won't be disturbed. 4. Check if you have a stable internet connection. 5. To join an experience, click a link in your email. [Recommended food is...] -Types of food: Anything to eat is fine but you may feel more comfortable if you bring something healthy like bread or salad or healthy snacks! Ideal meals are ones that remain delicious even when cold since we will start eating about 15 minutes after the activity starts. -Quantity: We eat 6-10 bites together. [Get in touch with zen eating] Would you like to know a little bit about zen Buddhism beforehand? Here are the five contemplations before eating zen teaches. 1. This food is a gift of the earth, the sky, numerous living beings, and much hard and loving work. 2. May we eat with mindfulness and gratitude so as to be worthy to receive this food. 3. May we recognize and transform unwholesome mental formations, especially our greed and learn to eat with moderation. 4. May we keep our compassion alive by eating in such a way that reduces the suffering of living beings, stops contributing to climate change, and heals and preserves our precious planet. 5. We accept this food so that we may nurture our brotherhood and sisterhood, build our Sangha, and nourish ideal of serving all living beings. Feel free to email us if there is anything that we can help you with. momoenishimura@gmail.com I'm looking forward to meeting you:) Arigato! Momo
Event Information
Refund Policy
Refunds up to 1 day before event
Sales Have Ended
Ticket sales have ended
Thank you very much for your booking :) I am Momo from Japan that hosts "zen eating" for you. I am sending this message to ①make sure you will be ready to join this experience comfortably ②share a brief introduction about zen with you that you might be interested in! [Be ready!] 1. Kindly bring your own meal or snack. 2. Download Zoom (www.zoom.us) to your laptop or smartphone. 3. Find a quiet space where you won't be disturbed. 4. Check if you have a stable internet connection. 5. To join an experience, click a link in your email. [Recommended food is...] -Types of food: Anything to eat is fine but you may feel more comfortable if you bring something healthy like bread or salad or healthy snacks! Ideal meals are ones that remain delicious even when cold since we will start eating about 15 minutes after the activity starts. -Quantity: We eat 6-10 bites together. [Get in touch with zen eating] Would you like to know a little bit about zen Buddhism beforehand? Here are the five contemplations before eating zen teaches. 1. This food is a gift of the earth, the sky, numerous living beings, and much hard and loving work. 2. May we eat with mindfulness and gratitude so as to be worthy to receive this food. 3. May we recognize and transform unwholesome mental formations, especially our greed and learn to eat with moderation. 4. May we keep our compassion alive by eating in such a way that reduces the suffering of living beings, stops contributing to climate change, and heals and preserves our precious planet. 5. We accept this food so that we may nurture our brotherhood and sisterhood, build our Sangha, and nourish ideal of serving all living beings. Feel free to email us if there is anything that we can help you with. momoenishimura@gmail.com I'm looking forward to meeting you:) Arigato! Momo
Learn how to apply a zen state of mind in your daily life by experiencing mindful eating that is inspired by Japanese Zen Buddhism.
About this Event
Learn to eat to enrich your life & access new ways of eating!
[What you will do?]
I truly believe eating mindfully promotes your happiness by resetting your mind to appreciate everything that surrounds you.
During this mindful eating experience, I will take you on a 1-hour journey of eating meditation that will bring you peaceful and joyful energy.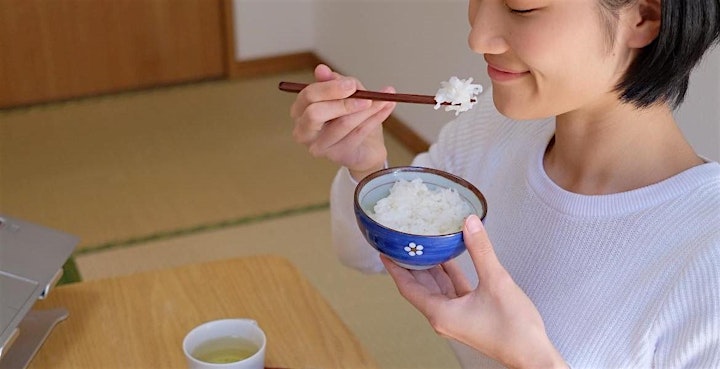 This experience is structured in three parts.
First, we will meet online via Zoom.
Then, this experience begins with an introduction to the philosophy of zen, including how to eat mindfully. I will guide you to induce relaxation through a simple exercise and breathing techniques.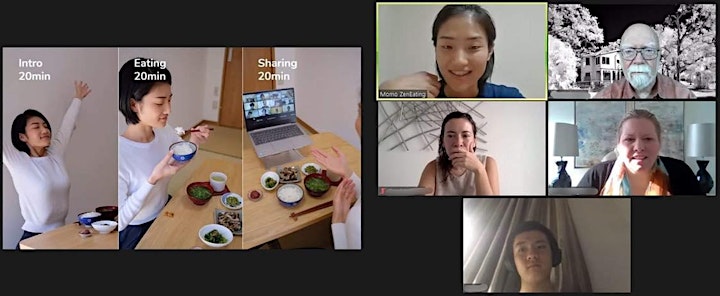 Next, we start eating in a calm and relaxed state for 20 to 25 minutes. Mindful eating is one of the practices in Buddhism that is easy to implement into your own life. You may feel the connection with people, food, and nature. We'll explore this state of peace while eating, feeling full of joy. Eating together slowly in a calm and relaxed environment will leave you feeling more grounded.
Finally, we take a moment to share what we feel together. Sharing your perspective, thoughts, and feelings is helpful for you to clear your mind, connect with others, and end the experience with a positive feeling.
[Language]
English
[Price]
$ 11 USD / € 9 EURO for one hour session
[Join Online]
Due to the current global situation, you'll be streaming this experience from your home, don't worry about what you look like and jump straight in!
I will be having this session from my home in Tokyo, Japan. Welcome to Japan virtually.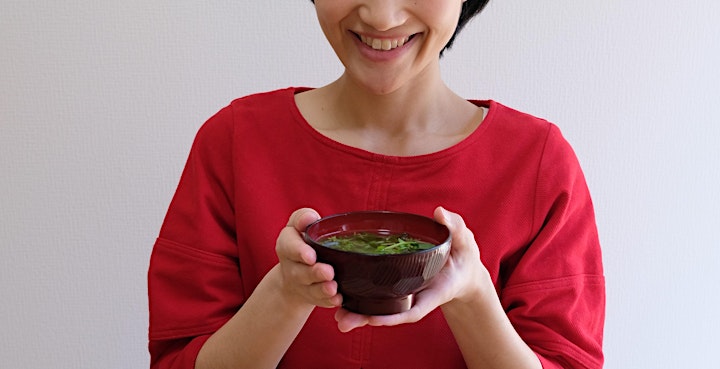 [What to bring?]
Your meal or snacks to join the mindful eating session.
Anything to eat is fine but you may feel more comfortable if you bring something healthy like a piece of bread or salad or healthy snacks!
Quantity: We eat 6-10 bites together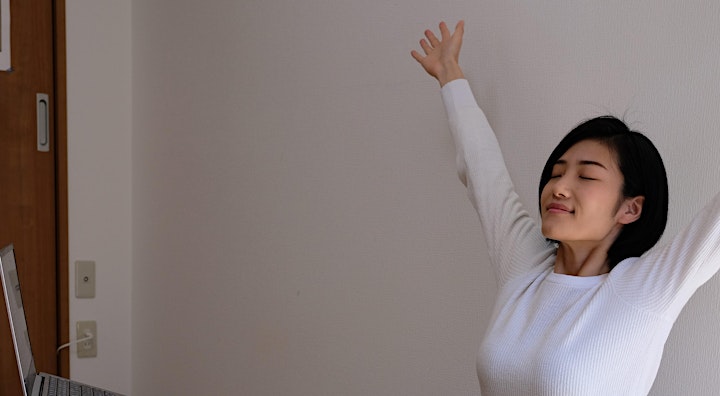 [Time and Duration]
1 hour
Kindly use the time converter if the event page doesn't show your local time! https://www.thetimezoneconverter.com/
(Japan time is GMT +9:00 / PDT is GMT -7:00/ CEST is GMT +2:00)
2. You will receive a zoom link via email.
3. Find a quiet space where you won't be disturbed.
4. Kindly bring your own meal or snack, and join!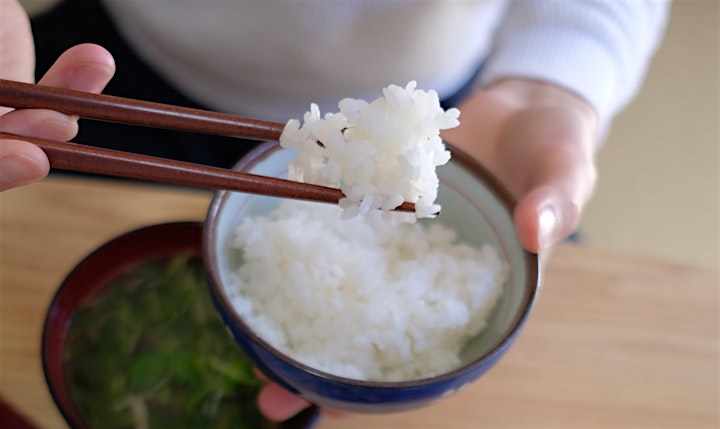 [Private group]
Is your group larger than my listed max group size? Accepting groups up to 100! Message me about group discounts or to request a time that suits your team!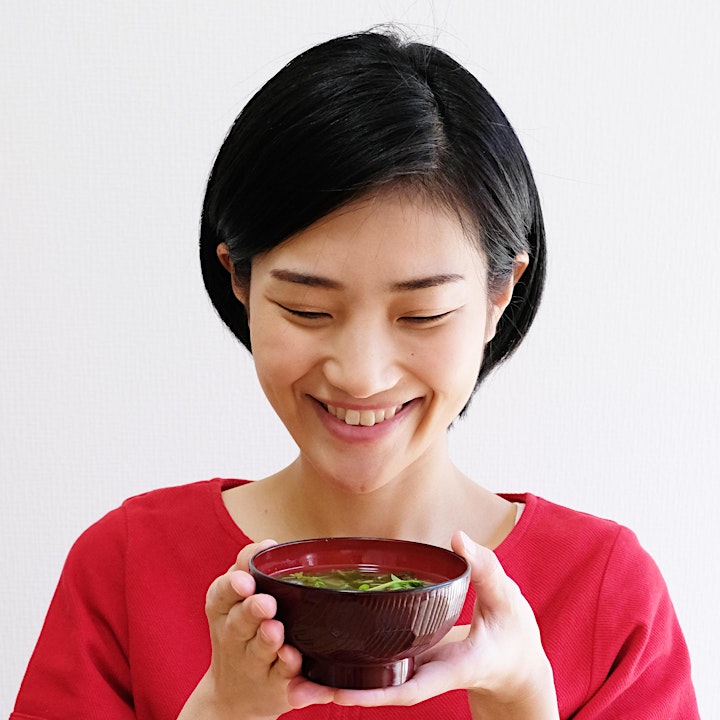 Momo
I've been hosting this session that marked 4.99 stars from 200+ guests on Airbnb.
I have hosted more than 600 guests online including Google, McKinsey and Company, Accenture and MIT, along with other companies and conferences.
I would like to share the calm and happy moment by giving you my activity "zen eating".
I integrate zen philosophy into eating.
I have been practicing Zen Buddism for 8 years.
My spiritual journey has been going on from when I studied religion and culture at university.
I was born in Northern Japan and raised in Tokyo.
I am passionate about knowing Japanese traditional culture as seeking tradition is entertaining for me.
I love sharing wisdom that I learned from traditions with my guests.
I have practiced Indian meditation too while I was living in India for 1.5 years.
As a happy person, I will share the way of eating mindfully based on Zen to gift yourself joy and calmness with you.
Follow me on
-Instagram: @zeneatingmomo
-Linked in: @zeneatingmomo
-FB: @zeneatingmomo
-Blog Medium: @zeneatingmomo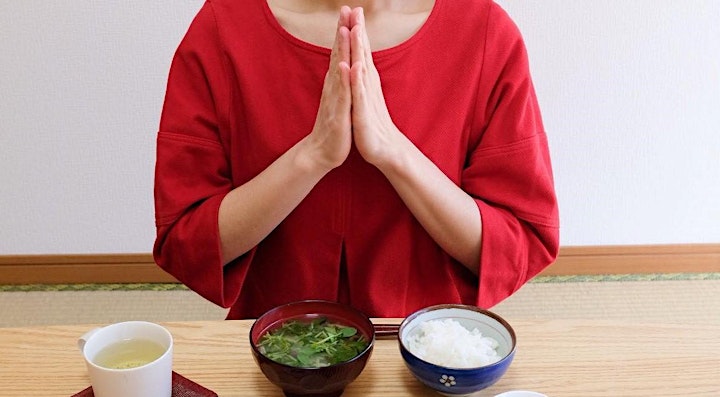 [Detailed Informations]
-Previous experience of mindfulness is not necessary.
-This activity is for adults since we sit in silence for a while.
However, you can bring your children if your kid is fine with eating in silence.
-If you are late, we will admit you up to 15 minutes after the experience begins.
-Ideal meals are ones which remain delicious even when cold since we will start eating about 10 minutes after starting the activity.
Location
Refund Policy
Refunds up to 1 day before event